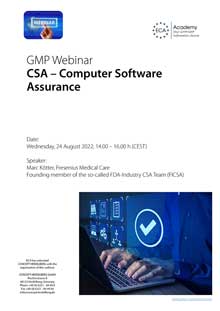 Wednesday, 24 August 2022 14.00 - 16.00 h
Speakers
Marc Kötter, Fresenius Medical Care
Founding member of the so-called FDA-Industry CSA Team (FICSA)
Objectives
Background
Although risk-based software validation is already a best practice, many life science companies are still reluctant to reduce validation activities and/or documentation using risk-based decisions. One reason for this is that the relevant software validation regulations are very general and companies
either do not know exactly how they should be interpreted
or they fear that the authorities may have a different interpretation/expectation.
The result is that these companies either do not take a risk-based approach at all or, more often, despite taking a risk-based approach, still focus primarily on extensive validation documentation rather than on risk to the patient or product quality, as well as the software quality itself.
A group of life science industry representatives has teamed up with the FDA to launch an initiative to promote a risk-based approach that focuses more on software quality while significantly reduces the documentation burden. The result is what is called Computer Software Assurance (CSA), for which the FDA will publish a related guidance document (Guidance for Industry).
In this webinar, you will learn first-hand what CSA is all about from one of the founders of the so-called FDA-Industry CSA Team (FICSA), which created CSA and produced the associated guidance document. You will learn how to integrate CSA ideas into existing validation processes, why you should do so, and what benefits you can expect.
Target Group
The webinar is aimed at employees from the pharmaceutical industry and suppliers who are currently and, in the future, involved in the topic of CSA in the IT environment.
Programme
Educational Objectives
The objective of this webinar is to provide answers to the following questions:
What is CSA all about, what are the differences to CSV?
What is the added value of CSA?
Is CSA compliant with all laws and regulations?
What can be done to consider CSA in software validation?
The following details will be covered:
CSA Introduction:

Key aspects of CSA
CSA vs. CSV (comparison with existing software validation guidelines and best practices such as GAMP 5).

How to consider CSA when validating software:

Effectively address the risk-based approach
Reduce the burden of validation documentation
Use of alternative test documentation methods
Use of software QA activities that have already been performed prior to validation (keyword: vendor testing)

Beispiele:

A common document for user requirements, risk and test management, and traceability
Different types of test documentation
Real project benefits
Technical Details
We use Webex Events for our live online training courses and webinars. At
www.gmp-compliance.org/training/online-training-technical-information
you will find all the Information you need to participate in our events and you can check if your system meets the necessary requirements to participate. If the installation of browser extensions is not possible due to your rights in the IT system, please contact your IT department. Webex is a standard nowadays and the necessary installation is fast and easy.