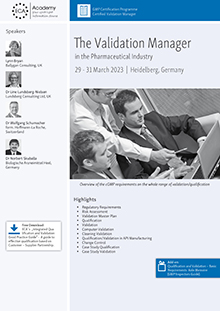 29-31 March 2023
Speakers
Lynn Bryan BSc. (University of Liverpool), P.G.C.E (University of Reading), Ballygan Consulting, U.K.
Dr Line Lundsberg, Lundsberg Consulting Ltd,  U.K.
Dr. Norbert Skuballa, Biologische Arzneimittel Heel, Germany
Dr Wolfgang Schumacher, formerly F. Hoffmann-La Roche Ltd., Switzerland
Objectives
For years, the topic validation/qualification has been among the top deviations in FDA's warning letter statistics. This is true both of pharmaceutical manufacturers and of the API industry. Other frequent citations refer to the related topics cleaning validation and change control. What is also checked during inspections – and mentioned in warning letters – is computer validation.

In order to give you an broad overview of the cGMP requirements  on the whole range of validation / qualification, we have designed the practice-oriented 3-day GMP Education Course "Validation Manager" for you. In many pharmaceutical and API enterprises, the Validation Manager has become an established function.

One focus will be on the FDA Guidance on Process Validation from 2011. What are differences, what are similarities to European validation guidelines.

Parallel workshops on risk analysis and detailed case studies on qualification and validation help to consolidate the theory and demonstrate the practical implementation.
Background
Target Group
The addressees of the event are qualified staff charged with or responsible for validation activities such as commissioners for validation, heads of quality assurance, department heads, etc. It also addresses members of validation teams (e.g. engineers, chemists, pharmacists, microbiologists) as well as representatives of the plant engineering industry and consultants.

Note: The number of participants is limited to 40 persons.
Programme
Overview
Regulatory Requirements on Qualification / Validation Aspects – From History to PAT
EU GMP guideline and annexes
Revision of Annex 15 – what is new?
PIC/S guidelines
Systematics of plant qualification and process validation
New approaches to validation
The FDA Guidance on Process Validation
Industrial View
Risk Assessment 
Why is risk assessment necessary?
ICH Q9
Risk assessment techniques
Case study
Validation Master Plan
Target
Format
Content
Differences between PIC/S and Annex 15
New requirements regarding Annex 15 revision
Validation Master Plan and Lost Guide
Qualification
Why do we do this – history
Update Annex 15 requirements
DQ, IQ, OQ, PQ – how the stages of validation fit together
How to handle qualification logistics?
Re-qualification
Qualification of equipment in use
Case Study Qualification
The case study describes how a purified water system can be qualified according cGMP.
 
Case Study Validation
The case study describes a process validation study of a tabletting process.
 
Validation
The validation life cycle
Prospective vs concurrent validation
Is retrospective validation still allowed ?
Are 3 runs still valid ?
What does Hybrid Approach mean?
Revalidation vs. Continued Process Verification and Ongoing Process Verification
Similarities/differences between process validation expectations in US and EU
Pitfalls
Computer Validation
Organisation of computer validation
Classification (GAMP 5)
Risk analysis
Change control
Legacy systems
Cleaning Validation
Validation protocol
Risk assessment
Sampling
Which limits are acceptable?
The new PDE approach in Annex 15 revision
Case study
Qualification/Validation in the Field of chemical API Manufacturing  
Guidelines focused on qualification/validation aspects for API production
GMP-requirements for qualification/validation in the field of API manufacturing

 differences to drug manufacturing
 retrospective qualification
 Revalidation
 pitfalls
Change Management
Technical change management
Regulatory change management
Change management documentation
Update Annex 15 requirements
Workshops
We offer three parallel workshops. You can take part in one of the workshops.
 
Workshop 1      
Organization of Validation
An interactive workshop to find out and discuss how validation activities can be implemented in an existing QM-System and how to write a Validation Master Plan
 
Workshop 2      
Risk Assessment Qualification
In the  workshop you look at risk assessment associated with qualification activities in a typical production environment. You will assess a new filling line as per the ISPE baseline guide to create an impact assessment plan. This plan will then be translated into requirements for validation and the resultant tests associated with the validation steps of DQ through to OQ.
 
Workshop 3      
Risk Assessment Process Validation 
An interactive workshop with practical examples and exercises on the application of Quality Risk Management for validation of a tabletting process.
 
Workshop 4      
Risk Assessment Cleaning Validation 
An interactive workshop to find out and discuss GMP-relevant aspects of the validation of cleaning with the focus on calculating of acceptance criteria.
For all participants:
Free download: ECA´s  "Integrated Qualification and Validation Good Practice Guide" -  A guide to effectie qualification based on Customer – Supplier Partnership

Add-on: Qualification and Validation – Basic Requirements  Aide Memoire (GMP Inspectors Guide).