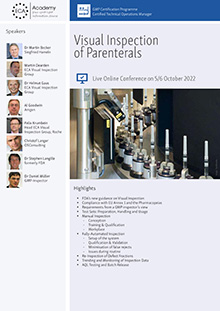 5/6 October 2022
Speakers
Dr Martin Becker, Siegfried Hameln
Martin Dearden, ECA Visual Inspection Group
Dr Helmut Gaus, ECA Visual Inspection Group
Al Goodwin, Amgen
Felix Krumbein, Head ECA Visual Inspection Group
Christof Langer, OSConsulting
Dr Stephen Langille, formerly FDA
Dr Daniel Müller, GMP-Inspector
Objectives
Main topic of this conference is the detection of defects like particles in injectables and their evaluation. Besides the current regulatory requirements with regards to particulate matter, Routine 100% inspection of injectables will be addressed. Manual inspection as well as automated inspection systems will be covered, including validation, training, defect categories, AQL testing, trending and batch release considerations.
Background
In most cases particles found in parenteral medicines will lead to a quarantined product or even to the recall of the product – as we have seen in the last years in the cases of several Pharmaceutical companies. Responsible staff in charge will have to start root cause analysis to find the source of the particles and will have to do an evaluation of batches already shipped.
There is still confusion within the global pharmaceutical Industry with regard to the requirements for testing for visible particles. After the USP chapters <790> and <1790> were published, things have become much clearer, at least for the US.
In Europe the new chapter 5.17.2 of the European Pharmacopoeia now also gives further advice. However, many questions remain, e.g. concerning training, re-testing, detection capabilities and revalidation of inspection systems.
Furthermore there has been a recognisable trend towards automated inspection machines throughout the last years. The challenge for pharmaceutical companies is to find a suitable machine for their products and to determine reasonable inspection Parameters during qualification and validation. But also during routine process there are questions arising like re-testing and the usage of test-sets, doing AQL-Testing as well as the adjustment of parameters of the vision systems.
We will address those topics during the conference and discuss and answer questions on
The latest compendial requirements concerning particulate matter
How to comply with FDA's new guidance on Visual Inspection
Compliance with the (revised) EU Annex 1
Training and qualification of operators in the Manual inspection
Validation and operation of an automated inspection System
Reduction of false rejects in automated inspection Systems
Trending and monitoring of visual inspection data
Correct AQL testing as part of the batch release
Re-inspection of defect fractions
Usage of artificial intelligence in visual inspection
Target Group
This course is directed at staff from sterile operations, that is production, quality operations and engineering. But also suppliers of primary packaging materials and inspections Technology are target group of this Event.
Programme
Regulatory Requirements for the Visual Inspection of Parenterals
Compendial Requirements

100% visual inspection & AQL testing
PharmEur, USP, JP - similarities and differences

News from the Annex 1 revison
Risk Management Considerations
FDA's new Guidance on Visual Inspection
The reason for the FDA's Visible Particulate Guidance - visual Inspection compendial requirements vs. U.S. current good manufacturing practice
The use of Quality Risk Management for the prevention of visible particulate contamination
A lifecycle approach to visible particulate contamination control
Visual Inspection of Parenterals – a GMP Inspector's view
Applicable regulations & guidance
Current requirements for pharmaceutical Industry
Expectations of a GMP Inspector
Examples of observations
Manual Visual Inspection – Theory and Practical Aspects
Probabalistic nature of visual inspection
Defect categorisation
Differentiation of test kits for training, qualification and Routine
Qualification and training of personnel
Standardisation of working conditions in manual inspection
Usage of the Knapp and the modified Knapp test
Requirements, Composition, and Handling of Test-Sets
Definition of defect categories
Set-up and composition of a test set
Test-Sets and their use for Training, Qualification and Routine
Handling and release of test sets
Documentation
Automated Visual Inspection – from Setup to Routine Use
Limitations of automated inspection
Setting up a qualification strategy for automated Systems
Cross validation during the PQ phase of an automated System
Importance of particle detection rates
System-Suitability, Requalification and revalidation
Inspection of eject fractions
The Roche Inspection systems: manual, semi-automated and fully automated inspection
Case Study Amgen: Optimisation of Particle Inspection Systems – Right First Time
Inspection of high viscosity syringe products
How to achieve effectively zero false fail ejects (0.04% false fails on complex particle stations)
Where to use Mainstream Vision inspection and Deep Learning assisted inspection
Amgen's procurement and implementation strategy for new AVI Systems
Take home messages for improving visual inspection systems
Re-Inspection of Defect Fractions in Visual Inspection
Different scenarios will be covered such as:
Re-inspection or additional inspection of "grey-channel" units from (semi-) automated inspection
Re-inspection in case of exceeding alert limits or AQLfailures
Focused re-inspection
Inspection approaches in case of investigations due to unexpected particles (e.g., to determine frequency of occurrence of visible particles when particles are found during release/stability testing
Particle Testing and the Correlation with Trending and Batch Release
Why do we Monitor (What is it all about?)
Data and Measurement
The AQL trap
Improvement Process Map
Investigation and Routine Analysis,
Release Process: "To AQL or not to AQL, that is the Question"
Product Release: "Falling off a log"
We use Webex Events for our live online training courses and webinars. At
www.gmp-compliance.org/training/online-training-technical-information
you will find all the information you need to participate in our events and you can check if your system meets the necessary requirements to participate. If the installation of browser extensions is not possible due to your rights in the IT system, please contact your IT department. Webex is a standard nowadays and the necessary Installation is fast and easy.