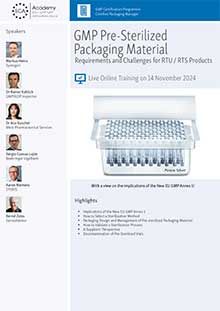 Thursday, 9 February 2023 9 .00 - 17.00 h
Speakers
Dr Bettine Boltres, West Pharmaceutical Services, Germany
Markus Heinz, Syntegon, Germany
Dr Rainer Kahlich, GMP/GDP Inspector, Germany
Horst Koller, HK Packaging, Switzerland
Sergio Cuevas Luján, Boehringer Ingelheim, Spain
Aaron Mertens, STERIS, USA
Objectives
In this live online course, you will learn which requirements apply for pre-sterilized packaging material (e.g., ready-to-use, readyto- sterilize). You get to know all aspects of the GMP manufacture of pre-sterilized products (e.g., vials, stoppers) that influence the the quality of the final product. In addition, practice-oriented presentations and case studies will guide you through the relevant requirements on qualification / validation, and controls for pre-sterilized materials, including impact of the new EU GMP Annex 1.
Background
Currently there is a growing demand in the development of presterilized packaging materials (e.g. ready-to-sterilize, ready-touse) for several enhanced Biotech applications. However, new GMP requirements for the sterile packaging material (e.g. regarding validation of the sterilization procedure) apply with the revised EU GMP Annex 1 entitled "Manufacture of Sterile Medicinal Products", which provides guidance on the approaches to sterilization of products, equipment and packaging components. All sterilization processes should be validated.
Annex 1, Scope: The manufacture of sterile products covers a wide range of sterile product types (active substance, excipient, primary packaging material and finished dosage form).
This event will therefore deal with the current discussions and trends in the manufacture of GMP pre-sterilized packaging materials: GMP requirements for sterilization of packaging materials
GMP requirements for sterilization of packaging materials / devices
Selection of a suitable sterilization method
Critical process parameters (CPPs) that should be considered in qualification and / or routine processing
Validation strategy
Requirements for suppliers
Validated loading patterns should be established for all sterilization processes and load patterns should be subject to periodic revalidation. Maximum and minimum loads should also be considered as part of the overall load validation strategy. The validity of the sterilizing process should be reviewed and verified at scheduled intervals based on risk.
The presentations will be provided in a practice-oriented way from the different viewpoints of authorities, suppliers of packaging materials / devices / services (including sterilization activities), and the pharmaceutical industry.
Target Group
This online event is designed for employees working in the pharmaceutical industry (including drug device combination products), for suppliers of packaging materials & devices and to all who have to deal with the manufacture, control and release of packaging materials for aseptic processing. They key areas are
Sterile Productionƒ
Packaging material / Device developmentƒ
Manufacturing / Processing / Assemblingƒ
Quality Controlƒ
Quality Assuranceƒ
Programme
GMP Aspects / Implications of the New Annex 1
Regulatory expectations
What´s new in Annex 1? (relevant aspects for packaging materials)
Requirements for supplier qualification of pre-sterilized packaging material manufacturers
Issues in inspections
Selection of a Sterilization Method
Type of Packaging Materials
Different Sterilization Methods
Pros and Cons
Packaging Design and Management of Pre-sterilized Packaging Material
Design Aspects – What need to be considered?
How to handle packaging materials for aseptic processing
Q&A Session 1
 
Validation of a Sterilization Procedure
Critical Process Parameters (CPPs)
Validation Strategy
Validation of loading patterns
Revalidation
A Suppliers' Perspective on EU GMP Annex I Requirements
A Suppliers' Perspective on EU GMP Annex I Requirements
Appropriate primary packaging components and adequate primary packaging material selection
How can this support pharmaceutical companies in complying with the respective requirements laid out in EU GMP Annex I?
Decontamination of Pre-Sterilized Containers (including Case Study)
What is the ideal process for transferring ready-to-use (RTU) vials into the fill & finish area of an isolator?
Effects of Vaporized Hydrogen Peroxide (VHP) on pre-sterilized glass and plastic vials
VHP as a technology for proper outer decontamination of RTU packaging material
Q&A Session 2
Technical Requirements
For our Live Online Training Courses and Webinars, we use Cisco WebEx, one of the leading suppliers of online meetings. At
https://www.webex.com/test-meeting.html
you can check if your system meets the necessary requirements for the participation at a WebEx meeting and at the same time install the necessary plug-in. Please just enter your name and email address for the test. If the installation is not possible because
of your rights for the computer system, please contact your IT department. WebEx is a standard nowadays and the necessary installation is fast and easy.