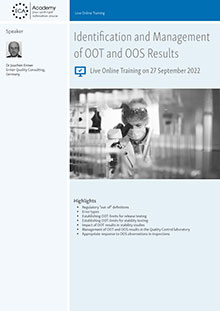 27 September 2022
Speakers
Dr Joachim Ermer, Ermer Quality Consulting, Germany
Objectives
Out-of-specification (OOS) test results and their appropriate management is an important topic in pharmaceutical Quality Control and inevitably in the focus of any inspection and audit. The purpose of the seminar is providing an overview on regulatory expectations, which are mainly based on the FDA Guidance for Industry "Investigating Out-of-Specification (OOS) Test Results for Pharmaceutical Production", as well as practical recommendations for a GMP-conform investigation.
Background
Although the FDA-Guidance on OOS-results provides detailed instructions how to manage results outside specification, observations and deficiencies dealing with OOS results is still a major issue in inspections, FDA 483s and Warning Letters.

In the speaker's experience, an important aspect is to establish a clear terminology to facilitate understanding of the investigation phases and the appropriate testing approaches.

Of course, "prevention is better than cure". For this purpose, it is important to avoid OOS-results, for example by means of a suitable identification of atypical or out-of-trend (OOT) results. The participants will learn how to identify OOT-results and how to establish suitable OOT-limits
Target Group
This Live Online Training is aimed at executives and employees from quality control, quality assurance, production, regulatory and audit functions who want to gain a better understanding of the GMP requirements for the management of OOS-results and how to establish OOT-limits to better prevent OOS-results.
Programme
Definition of OOT and OOS Results
 Regulatory "out-of" definitions

 atypical, suspect, out-of-trend, out-of-expectation, out-of-specification

 Reportable value
 Error types (random, systematic)

 How can they be distinguished?

 Normal or abnormal?

 (Normal) distribution of data
Establishing OOT Limits for Release Testing
 Statistical approaches
 Empirical approaches
 Control charts
Establishing OOT Limits for Stability Testing
 Impact of OOT results in stability studies (ICH studies, ongoing stability)
 Introducing a second dimension ("normal" stability trend)
 Statistical approaches

 95% prediction interval of the linear regression
 Regression control chart
 Time-point method
Management of OOT and OOS Results in the Quality Control Laboratory
 FDA Guidance and European requirements (EU GMP Guide, MHRA, PIC/S)
 Importance of a clear terminology (reportable value, re-analysis, retest, re-sampling)
 Investigation pathway: OOS identification & decisions
 Phase I: Initial laboratory investigation
 Phase II: Full scale investigation           

 Phase IIA: Review in production
 Phase IIB: Additional laboratory testing (retests, averaging)

 Variability and OOS
 Reporting and documentation
 Appropriate response to OOS observations in inspections
Workshop
Evaluation and commenting of OOS examples
Technical Requirements
We use WebEx Events for our live online training courses and webinars. At
https://www.gmp-compliance.org/training/online-training-technical-information
you will find all the information you need to participate in our trainings and you can check if your system meets the necessary requirements to participate. If the installation of browser extensions is not possible due to your rights in the IT system, please contact your IT department. WebEx is a standard nowadays and the necessary installation is fast and easy.