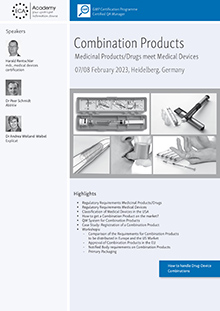 7/8 February 2023
Speakers
Harald Rentschler, mdc, medical devices certification
Dr Peer Schmidt, AbbVie
Dr Andrea Weiland-Waibel, Explicat
Objectives
The aim of the course is to identify similarities and differences between FDA´s and European regulations for Combination Products.

During the course, speakers will cover the various regulatory requirements for Medicinal Products/ Drugs and Medical Devices and present their similarities and differences. How to launch a Combination Product on the market will also be part of the presentations. Moreover, Case Studies about approval procedures of  combination products will give practical orientation. It is also important to know which QM system fits the US and the EU requirements and what their  similarities are. Also this topic will be discussed.

A Notified Bodies representative will explain the EU certification procedure for Medical Devices.

3 parallel workshops – concentrating on approval processes of Combination Products in the EU and the US and examples of  Notified Body requirements on Combination Products will provide  practical orientation.
 
Background
Combinations of  Medicinal Products/Drugs, Medical Devices and/or Biologics are becoming more and more important for the market, e. g. for the delivery of a medication. Such "Combination Products" meet two  worlds: the pharmaceutical regulation world and the world of the Medical Devices Regulations.

In the EU the GMP requirements for Medicinal Products are laid down in the GMP Guideline based on an EC regulation. The medical devices industry is regulated by three EU directives (90/385/EWG, 93/42/EWG and 98/79/EG) and one amending directive. The Medical Device Regulation will change this in 2020. The distribution of Medical Devices in Europe is based on a CE Certification. Medical Devices Inspections are primarily performed by Notified Bodies.

The basis for the approval process of Medicinal Products /Drugs is for both the EU and the USA the ICH Common Technical Document (CTD). Inspections are performed by authorities. In the USA, there are special approval processes for Medical Devices.

The US-FDA has developed own GMP regulations for Drugs (21 CFR 210/211) , Medical Devices (21 CFR 820), Biologics (21 CFR 600 – 680)  and tissue-based products (21 CFR 1271) So far, there had been no standalone GMP regulations for combination products. This has changed only at the FDA since 22 July 2013 with the publication of FDA's 21 CFR Part 4 (cGMP Requirements for Combination Products). An Office of Combination Products is responsible for this products in the USA. Until now, there is nothing comparable to 21 CFR 4 regarding Combination Products in the EU.
Target Group
This event has been especially designed for the manufacturers who are subject to Combination Products  and want to become familiar with the practice-oriented implementation of the legal requirements  in the USA and in Europe.
Programme
Regulatory Requirements regarding Medicinal Products / Drugs 
European Directive about GMP
EU GMP Guide
Guide to Inspections of/ Guidances for Industry
Office of Combination Products
Marketing Authorisation
Regulatory Supervision
Regulatory Requirements regarding Medical Devices in the USA 
21 CFR 800ff
Guide to Inspections of/ Guidances for Industry
Classification EU vs USA
Marketing Authorisation in the USA
Classification of Medical Devices in the USA 
How to classify Medical Devices in the USA
Examples
How to launch a Combination Product on the market?   
"Combination product"- 21CFR 3.2 e in the US versus "combination products" in the EU
What do medical device companies need to know about medicinal products?
What does the pharmaceutical industry need to know about medical devices
The importance of the primary mode of action (US) and the intended use (Europe)
QM System for Combination Products 
Quality Management System for Drugs
Quality Management System for Medical Devices
Similarities and differences
Qualifying of Suppliers
Quality Management System for the combination of Medicinal Products with a Medical Device
Workshop on Primary Packaging Material vs. Medical Devices 

Case Studies: Approval Process for Combination Products in the EU 
Case Study for a single entity "combination" product – a  medical device containing a drug substance having an ancillary action
Case Study for an investigational medicinal product to be combined with a CE marked medical device (nebulizer)
Case Study – drug eluting stents – requirements regarding the in vitro- in vivo correlation of the sustained release drug substance in carrier
Human Factor Studies
Crossmatrix EU/USA
Comparision of EU/FDA Requirements
3 Parallel Workshops

Application of Quality Risk Management to Combination Products
You discuss in the workshop risk management aspects regarding the medicinal product and medical device.

Approval of Combination Products in the EU
The workshop is intended to lay down the basis for a strategy for a "combination product" taking into account the fact, that in the EU the regulatory frames of medical devices, medical devices containing a drug substance having an ancillary action and medicinal products and the respective quality management systems have to be taken into consideration.

Two cases will be studied:
A medicinal product having a marketing authorization shall be combined with a medical device in development. How can this be accomplished? What needs to be done, where are possible pitfalls?
A medical device marked with a CE shall be combined with a medicinal product that is authorized for marketing. What needs to be done, where are possible pitfalls?
Notified Body requirements on Combination Products
The workshop is intended to assess examples of Notified Body audit findings and  how to react.
Presentations / Certificate / Hygiene Measures
The presentations for this event will be available for you to download and print before and after the event. Please note that no printed materials will be handed out on site and that there will not be any opportunity to print the presentations on site. After the event, you will automatically receive your certificate of participation.

On site, we will implement the necessary and required hygiene measures in close co-operation with the hotel. If infection rates and/or travel restrictions generally do not permit an on-site event, will be postponed or offered live online. In this case, you will be informed in due time.