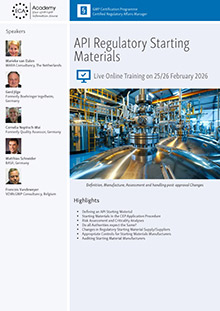 9/10 February 2023
Speakers
Marieke van Dalen, Aspen Oss B.V., The Netherlands
Gerd Jilge, Boehringer Ingelheim, Germany
Cornelia Nopitsch-Mai, Quality Assessor, Germany
Matthias Schneider, BASF, Germany
Objectives
During this Live Online Training all relevant aspects regarding API regulatory starting materials will be discussed. You will learn
What has to be considered when  starting materials have to be defined
How risk assessment can be applied
Which aspects have to be taken into account when applying for a CEP
How quality agreements should look like
How post approval changes can be handled and
How impurities in starting materials can be controlled

Furthermore you will have the opportunity to join two case studies about
How to define suitable starting materials in API syntheses
How to defend the choice of the starting material in the Submission
Background
According to EU GMP Guide Part II (ICH Q7) an API starting material is a raw material, an intermediate, or an API that is used in the production of an API and is incorporated as a significant structural fragment into the structure of the final API. From this point on, appropriate GMP has to be applied to the API manufacturing steps.
In a marketing authorisation application the applicant has to describe in an ASMF the API manufacturing process. The "API regulatory starting material" has to be clearly designated and the rationale for the point at which the production of the API begins has to be documented. Same applies for a CEP application procedure.
In the last few years assessors have been more and more challenging the proposed regulatory starting materials. E.g. the definition of a starting material has been one of the top deficiencies in CEP applications. This is partly due to the fact that companies tend to describe shorter synthetic routes starting from complex starting materials. Moreover changes of critical quality attributes and the request from the authorities to re-define the starting material can create difficult situations regarding additional efforts and significant delays in the application process.
Target Group
This course is designed for all persons involved in the manufacture of APIs. Furthermore, the seminar will be of interest to personnel from quality assurance, regulatory affairs both from API and pharmaceutical companies and to contract manufacturers.
Programme
How to Define API Regulatory Starting Materials: What do the Guidelines tell us?
API Regulatory Starting Materials – overview of Guidelines
Definition according to the guidelines
Global guidelines (ICH Q7 and Q11)
US, EU and Japan guidance
How to use the term "significant structural fragment"
Distinguishing starting materials from raw materials, reagents and solvent
Selection of an appropriate Starting Material
Starting Material specification
API Regulatory Starting Materials – Do all Authorities Expect the Same?
Differences between the expectations of health authorities
Consequences in case of changes
Practical experiences
Starting Materials and the CEP Application Procedure
Regulatory Background
Scope of the CEP procedure
Provisions of the Guideline PA/PH/CEP (14) 06 "Use of a CEP to describe a starting material in an application for another CEP"
Important points to be considered for defining an API starting material
Changes in Regulatory Starting Material Supply/Suppliers
What kind of changes could occur?
How to classify these changes?
What information to submit?
From Starting Materials to APIs: Risk Assessments and Criticality Analyses
Criticality analysis methods (HAZOP, FMEA etc)
Critical quality attributes (CQA) and critical process steps (CPS)
Linking CQA and synthesis steps
Critical impurities
Critical raw materials
Process criticality analysis; example
Case Studies
API Synthesis: How to define suitable Starting Materials
How to defend the choice of the Starting Material in the submission
Appropriate Controls for Starting Materials
How to control impurities in a starting material
Analytical techniques
Optimisation of chromatographic methods
Downstream experiments
Validation of analytical procedures
Qualification of Starting Materials
How to Audit Starting Material Manufacturers
Impact of ICH Q7 Q&A and ICH Q11 on auditing Starting Material manufacturers
Health Authority and Regulatory expectations
Risk based approach on "How to " audit Starting Materials
Development and use of the APIC guideline on auditing Starting Materials
Practical examples and case studies
Technical Requirements
We use Webex Events for our live online training courses and webinars. At
https://www.gmp-compliance.org/training/online-training-technical-information
you will find all the information you need to participate in our trainings and you can check if your system meets the necessary requirements to participate. If the installation of browser extensions is not possible due to your rights in the IT system, please contact your IT department. Webex is a standard nowadays and the necessary installation is fast and easy.