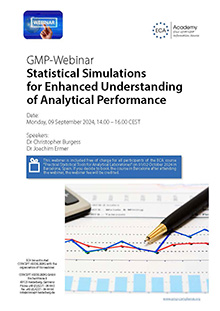 Monday, 17 October 2022 14.00 - 16.00 h
Speakers
Dr Christopher Burgess
Dr Joachim Ermer
Objectives
Background
A comprehensive understanding of the performance of an analytical procedure is a key element in the enhanced (Quality-by-Design) development approach described in the ICH Draft Guideline Q14 "Analytical Procedure Development", but is also beneficial in more traditional approaches to method development and validation. Besides the identification and (as far as possible) elimination of systematic bias (thus ensuring accuracy), an appropriate knowledge of the random variability (common cause variation) is essential, as this error type contributes to all other performance characteristics.

Having established a reliable knowledge of the respective precision, statistical simulations can facilitate to evaluate the consequences to other performance attributes or investigations, such as calibration models, design of precision or transfer studies, reportable values etc. This approach allows to perform a large number of (simulated) "experimental" investigations, to gain a "feeling" on the interplay of precision, number of determinations, as well as acceptance criteria.
Target Group
Analytical laboratory managers and their colleagues charged with the day to day management and evaluation of laboratory data throughout the lifecycle, i.e. in method development, validation, transfer, specification setting, batch release and stability, continuous performance verification and change control.
QA, manufacturing and regulatory affairs professionals
Programme
The participants will learn what statistical simulations are and how they can be applied to relevant questions in pharmaceutical analysis, such as
Expected spread of data, standard deviations, means
Interplay of standard deviation, number of determinations, and specification Limits
Link between variability contributions of precision levels and expected mean difference (e.g. for transfer of analytical procedures)
The participants will receive an Excel file with simulation worksheets, which will be explained in the webinar and which can be used later for own applications.
Technical Requirements
We use Webex Events for our live online training courses and webinars. At www.gmp-compliance.org/training/online-training-technical-information you will find all the information you need to participate in our events and you can check if your system meets the necessary requirements to participate. If the installation of browser extensions is not possible due to your rights in the IT system, please contact your IT department. Webex is a standard nowadays and the necessary installation is fast and easy.