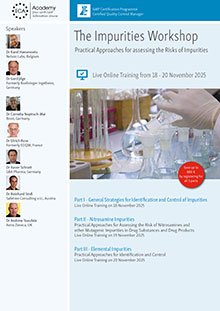 Thursday, 20 October 2022 9 .00 - 15.30 h
Speakers
Jürgen Martin, Martin-Consulting, Germany
Dr Ulrich Rose, Formerly EDQM, France
Dr Andrew Teasdale, Astra Zeneca, UK
Objectives
In Part III of the Impurities Workshop the key principles of the ICH Q3D Guideline on elemental impurities will be highlighted. You will get to know the essential aspects and approaches of how to assess the risks and control elemental impurities in drug substances, drug products and excipients.

You will learn
 what has to be considered with respect to the drug substance monographs of the European Pharmacopoeia,
 how to perform a risk assessment in order to establish a control strategy for elemental impurities,
 how the route of administration and the duration of exposure affect the limits of elemental impurities,
 which potential sources of Elemental Impurities within the supply chain you have to be aware of.
Background
In November 2014 the ICH Q3D Guideline for Elemental Impurities was published as Step 4 document. This document outlines
 the evaluation of the toxicity data for potential elemental impurities
 the PDEs for each element of toxicological concern
 the basis for an EI risk assessment and the key factors for evaluation.
 the development of controls designed to limit the inclusion of elemental impurities in drug products to levels at or below the PDE
Meanwhile ICH Q3D was revised twice, regarding Cadmium Inhalation PDE (ICH Q3D(R1); Step 2 document) and cutaneous and transdermal products (ICH Q3D(R2); Concept Paper)
Target Group
The Live Online Training addresses all personnel involved in development of drug substances and drug products from scientific staff to laboratory heads involved in R&D. The needs of Laboratory Managers, Supervisors and Analysts in pharmaceutical quality assurance and quality control departments will also be covered.
Programme
Part III: Elemental Impurities
 
European Pharmacopoeia Activities (Policy) on Elemental Impurities – an Update
Implementation of Q3D in Ph. Eur.
Changes in individual and general monographs
Harmonisation of general chapter 2.4.20
Second phase for revision of excipient monographs
Risk-Based Approach for Elemental Impurities in the Supply Chain
APIs, excipients, packaging materials impacting the purity profile
Evaluation of supply chain processes
Risk analysis as evaluation tool
Audits and monitoring programs as important sources
Testing strategies
Control Strategies for Elemental Impurities in Final Dosage Forms – Case Studies
Utilisation of Data as part of an Integrated EI Risk Assessment Process
Potential Sources of Elemental Impurities in the Finished Product

API
Equipment
Container-closure system
Excipients

 Conclusions
Workshop: Conducting a Risk Assessment
In this Workshop the participants will work on several case studies and perform a risk assessment for different scenarios taking into account e.g. manufacturing equipment, dosage form of the drug product etc.
Technical Requirements
We use WebEx Events for our live online training courses and webinars. At
https://www.gmp-compliance.org/training/online-training-technical-information
you will find all the information you need to participate in our trainings and you can check if your system meets the necessary requirements to participate. If the installation of browser extensions is not possible due to your rights in the IT system, please contact your IT department. WebEx is a standard nowadays and the necessary installation is fast and easy.