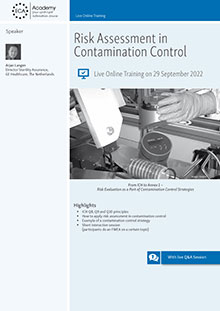 Thursday, 29 September 2022 9 .00 - 15.30 h
Speakers
Arjan Langen, Director Sterility Assurance, GE Healthcare, The Netherlands
Objectives
Risk-based approaches have considerably gained importance in all branches in recent years. Pharmaceutical production, quality assurance and quality control would be unthinkable without them.

Starting with the FDA initiative "cGMPs for the 21st Century" for the introduction of the risk-based approach, through the subsequent ICHQ9 guideline on risk management, which can now be found as Part III of the EU GMP guidelines, to the revised Annex 15 with a wealth of risk analyses, these principles are anchored everywhere. With the revision of Annex 1, risk management is also increasingly becoming part of the main guideline for the manufacture of sterile pharmaceutical products.

In this Live Online Training on the principles, regulations and application of risk assessment in the context of contamination control, you will gain insight into the relevant underlying guidelines and guides as well as valuable pointers for practical implementation using practical examples. The following areas are covered:
 General introduction on risk assessments
 ICH Q8, Q9 and Q10 principles
 How to apply risk assessments in contamination control
 Example of a Contamination Control Strategy
 Interactive session: FMEA
Background
Target Group
The course is designed for personnel of pharmaceutical companies,  their suppliers and representatives of authorities with responsibilities in:
 Contamination Control
 Aseptic Manufacturing
 Quality Assurance
 Quality Control
 Internal Quality Audits
 External Inspections
Programme
Introduction and Organisationals

General Introduction on Risk Assessments
Principles of ICH Q9
Patient safety and product quality
Dos and don'ts
Tools and methods
ICH Q8, Q9 and Q10 Principles
Quality by Design (QbD)
Criticality of quality attributes and process parameters
Control strategy life cycle
Knowledge management
How to Apply Risk Assessments in Contamination Control
Pro-active vs. reactive
FMEA for equipment and processes
Risk assessments for impact assessments
HACCP for contamination control
Example of a Contamination Control Strategy
Contamination control master file
Reference document
Annual report
Short Interactive Session (participants do an FMEA on a certain topic)
Executing an FMEA (on a sterilizer or isolator)
Evaluation – what went well and what were the challenges?
Evaluation and Conclusion / Q&A Session
Technical Requirements
We use WebEx Events for our live online training courses and webinars. At
https://www.gmp-compliance.org/training/online-training-technical-information
you will find all the information you need to participate in our trainings and you can check if your system meets the necessary requirements to participate. If the installation of browser extensions is not possible due to your rights in the IT system, please contact your IT department. WebEx is a standard nowadays and the necessary installation is fast and easy.