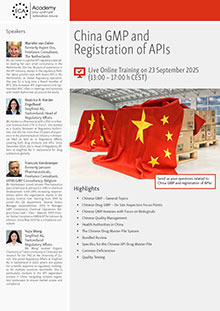 Tuesday, 4 October 2022 13.00 - 16.30 h
Speakers
Marieke van Dalen, Global Regulatory Specialist, Aspen Oss, The Netherlands
Francois Vandeweyer, Freelance Consultant, Belgium, formerly Janssen Pharmaceuticals
Objectives
China first introduced GMP in 1988, and since then the GMP regulations are revised and updated several times. Most of the existing GMP requirements and guidance documents were updated by the so called National Medical Products Administration (NMPA), China's new Drug Regulatory Authority since 2018, and replace former guidelines published by the CFDA (China Food and Drug Administration). In 2021, the NMPA published a new guideline in regard on the inspection system and GMP certificates, which influenced the certification procedure tremendously.

Also in 2021, the NMPA issued new guidelines with information relevant for changes in registrations of drug products, for administrative and for technical processes. To keep track with the mandatory guidance documents of the regulatory authority as well as the understanding of the GMP requirements and registration procedures for APIs are the prerequisites to register APIs in China. 

This Live Online Training provides an overview of the regulatory and GMP requirements regarding APIs in China.
Background
Target Group
This Live Online Training has been developed for all who are dealing with API Sourcing, Manufacturing, Quality Assurance and Regulatory Affairs.
Programme
API Registrations in China
Marieke van Dalen
Health authorities in China
The Chinese Drug Master File System
Bundled review
Specifics for the Chinese API Drug Master File
Common deficiencies
China's Current View on Drug GMP
Francois Vandeweyer
Chinese GMP - general Topics
Chinese Drug GMP - on site inspection focus Points
Chinese GMP annexes with focus on Biologicals
Chinese quality management and equipment strategy to compete with the West
Take advantage of the experiences of our speakers and send us your questions related to China GMP and registration of APIs in China prior to the Live Online Training. Your questions are welcome and will be answered as comprehensively as possible by the experts during the Q&A sessions.
Technical Requirements
We use WebEx Events for our live online training courses and webinars. At
https://www.gmp-compliance.org/training/online-training-technical-information
you will find all the information you need to participate in our trainings and you can check if your system meets the necessary requirements to participate. If the installation of browser extensions is not possible due to your rights in the IT system, please contact your IT department. WebEx is a standard nowadays and the necessary installation is fast and easy.