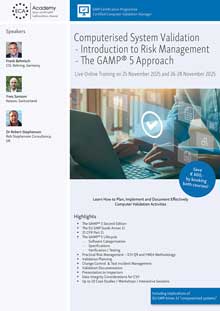 Tuesday, 22 March 2022 9 .00 - 18.00 h
Speakers
Frank Behnisch, CSL Behring, Germany
Yves Samson, Kereon, Switzerland
Dr Robert Stephenson, Rob Stephenson Consultancy, UK
Objectives
Get to know the current risk management approaches of ICH Q9 and GAMP®5
Become familiar with the use of the latest methods and tools for risk analysis when validating computerised systems
Learn how the activities involved in the validation of computerised systems can be controlled efficiently by means of risk management
In 3 case studies you can see how these procedures are applicable
Background
Current GMP regulations and guidelines (EU-GMP Guide Annex 11 'Computerised Systems', ICH Q9, GAMP®5, ASTM E2500-13) focus more and more on the topic of risk management. However, the regulations do not offer much concrete advice on how its principles should be translated into practice during the validation and operation of computerised systems. Therefore, it is the aim of this course to provide you with practice-oriented guidance in performing this task.
Target Group
This Live Online Training is directed at employees from Production, Quality Control / Quality Assurance, Engineering, IT who have to deal with risk assessment and risk management in the field of computer validation.
Programme
Computerised System Validation: Introduction to Risk Management
Introduction – What Do You Want From This Day?
Capturing delegates expectations
Sharing and reducing to key points in groups
Sharing with all delegates and tutors
An Introduction to Risk Management (including ICH Q9)
Definition of "Quality Risk Management"
Principles of Quality Risk Management
Application of the principles in validation
Methods of assessing and controlling risk
Regulatory expectations for risk management
Risk Management the GAMP® 5 Way
The importance of Risk-based Decision Making
How the GAMP® 5 Risk Management Approach aligns with ICH Q9
The 5-Steps you will need to follow described in detail
Risk Management throughout the System Lifecycle
Short workshop on Risk Identification and Risk Analysis
Risk Assessment the GAMP® 5 Way
The simple GAMP® 5 Risk Assessment Method
Assessment Scales for computerised systems that work
Functional Risk Assessments and Risk Reduction Strategies
Using risk to determine Test Rigour
Case Study: Risk Management Applied to a Computerised System
Evaluating identified risks
Classification of risks into H, M, L
Controls to mitigate unacceptable risks
Links to the validation plan and protocols
Case Study: Risk Management Applied to a Control System
What are the conclusions from the risk assessment?
What options do you have to mitigate (reduce) the higher risks?
How will the output affect the protocol?
An Introduction to Risk Ranking
What is risk ranking
How is it carried out
How is it documented?
A few useful applications
Case Study: Applying Risk Ranking to Determine Periodic Review Priorities
How is severity determined?
How can scales be created?
Ranking the risks
Developing a risk-based action plan.
Technical Requirements
For our Live Online Training Courses and Webinars, we use Cisco WebEx, one of the leading suppliers of online meetings.
At
https://www.webex.com/testmeeting.html
you can check if your system meets the necessary requirements for the participation at a WebEx meeting and at the same time install the necessary plug-in. Please just enter your name and email address for the test. If the installation is not possible because of your rights for the computer system, please contact your IT department. WebEx is a Standard nowadays and the necessary installation is fast and easy.