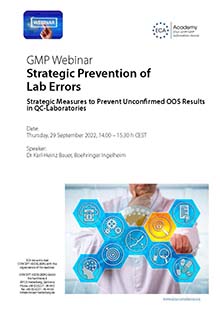 Thursday, 29 September 2022 14.00 - 15.30 h
Speakers
Dr Karl-Heinz Bauer, Boehringer Ingelheim
Objectives
Background
Laboratory tests are performed on active pharmaceutical ingredients, excipients and other components, in-process materials, and finished drug products. The investigation of out-of-specification (OOS) results is an important part of the work undertaken in QC-laboratories and continues to be a hot topic in authority inspections. The incorrect handling and investigation of OOS results are still frequently cited in FDA Warning Letters.
Unconfirmed OOS results (= lab errors) require a full and often time-consuming OOS investigation with a predefined procedure to find the root cause and to define CAPAs.
Against this background, it is essential to thoroughly investigate unconfirmed OOS results and make every effort to prevent the recurrence.
Target Group
This webinar is aimed at all levels of technical staff and managerial personnel dealing with OOS results. Those are for example persons working in
Incoming goods control,
Control of finished drug products,
Analytical development,
API and excipient testing,
Contract laboratories.
Programme
In this webinar, you will get to know strategies to investigate unconfirmed OOS results and you will learn how to define strategic measures to significantly reduce the probability of such results. The following topics are addressed:
 
Terms, definitions and requirements to prevent errors in QC-laboratories,
The role of quality risk management, 
Error sources and error analysis in the laboratory and strategic measures,
Integrated error management and error culture,
Tools for root cause analysis (Ishikawa, 5W, FTA etc.).
Technical Requirements
For our webinars, we use Cisco WebEx, one of the leading suppliers of online meetings. At http://www.webex.com/test-meeting.html you can check if your system meets the necessary requirements for the participation at a WebEx meeting and at the same time install the necessary plug-in. Please just enter your name and email address for the test. If the installation is not possible because of your rights for the computer system, please contact your IT department. WebEx is a standard nowadays and the necessary installation is fast and easy.