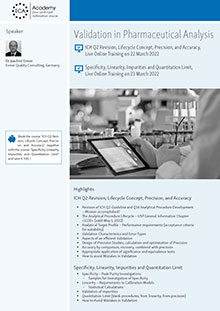 Wednesday, 23 March 2022 14.00 - 18.00 h
Speakers
Dr Joachim Ermer, Ermer Quality Consulting, Germany
Objectives
Besides regulatory expectations, these Live Online Training Courses provide practical recommendations and orientation for demonstration of the on-going suitability of analytical procedures. A rational and efficient validation approach is ultimately based on the respective routine application, which should be reflected in the validation design. This includes the identification of the relevant performance parameters, the selection of appropriate tests and calculations and, in particular, the establishment of acceptance criteria for the Evaluation.

Both training courses focus on the relevant validation characteristics, taking the - long-awaited - revision of the ICH Q2 guideline into consideration (provided a timely publication of the draft for consultation). Lifecycle aspects will be included in the discussion.
Background
According to EU GMP Guide Part 1, Chapter 6, Quality Control (6.15) and US 21 CFR 211.194, analytical procedures must be suitable for their intended purpose. The regulatory requirements to validation of analytical procedures utilised for release and stability studies of drug substances and drug products are described in the ICH guideline Q2(R1). However, its degree of detail is rather low, and the discussion is mainly focused on chromatographic methods. A broader consideration of other analytical techniques as well as alignment with lifecycle aspects is intended with the revision of Q2. The latter will also be the focus of the new ICH Guideline Q14 Analytical Procedure Development and is already content of the USP General Information Chapter <1220> The Analytical Procedure Lifecycle (valid May 1st, 2022).
Target Group
These Live Online Training Courses are aimed at executives and employees from Quality Control, Quality Assurance, and regulatory who want to gain a better understanding of the GMP requirements for validation of analytical procedures, are interested to participate in a discussion of the revised ICH guideline Q2 (provided a timely publication), and who are interested in practical recommendations for an efficient design, execution, and evaluation of a successful analytical validation.
Programme
Specificity
Comparison and (chromatographic) separation
Samples for investigation of specificity
Peak purity investigations
Linearity
Changes in the revised ICH Q2 guideline
Requirements to calibration models

 linear single-point and multiple-point calibration,  weighted linear regression
 non-linear calibration

Statistical calculations (regression, suitable parameters)
Acceptance criteria for calibration function

 residual and sensitivity plot
 ordinate intercept
Validation of Impurities
Concentration dependency of precision (Horwitz function)
Acceptance limits for accuracy and precision of impurities
Recovery
UV-response factors
Detection and Quantitation Limit
Determination of the quantitation limit (blank procedures, from linearity, from precision)
Is less more?

 Capability and requirement-based quantitation Limits

Consideration of practical relevance (samples, concentration range for linearity approaches)
Workshop: Multiple Choice-Questions (from Publications)
How to avoid mistakes in validation
Technical Requirements
For our Live Online Training Courses and Webinars, we use Cisco WebEx, one of the leading suppliers of online meetings.
At http://www.webex.com/test-meeting.html you can check if your system meets the necessary requirements for the participation at a WebEx meeting and at the same time install the necessary plug-in.  Please just enter your name and email address for the test. If the installation is not possible because of your rights for the computer system, please contact your IT department. WebEx is a standard nowadays and the necessary installation is fast and easy.