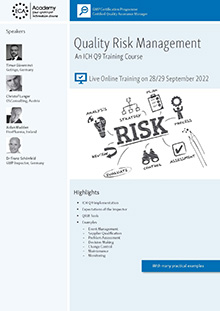 28/29 September 2022
Speakers
Timur Güvercinci, Getinge, Germany
Christof Langer, OSConsulting, Austria
Aidan Madden, FivePharma, Ireland
Dr Franz Schönfeld, GMP Inspector, Germany
Objectives
This ICH Q9 live online training course deals with the practical implementation of Quality Risk Management (QRM). You will learn how to implement and use QRM approaches to increase efficiency and to meet the expectations of the regulators.
Background
The ultimate responsibility for the performance of a medicinal product over its lifetime, its safety, quality and efficacy, lies with the marketing authorisation holder (MAH). To achieve the quality objective, "there must be a comprehensively designed and correctly implemented system of Quality Assurance incorporating Good Manufacturing Practice, Quality Control and Quality Risk Management." [EU-GMP Guidelines, Part 1, Chapter 1].

QRM was formally introduced to the pharmaceutical industry with the ICH Q9 Guideline, which has been incorporated in the EU-GMP Guidelines, Part 3. In the course of implementing ICH Q9, risk-based approaches increasingly gained in importance. Before that, it was often the case that processes were defined, implemented and documented to the latest detail. Now, based on risk assessments, more flexibility is possible, allowing implementing and controlling processes more efficiently. Decisions can be made based on evaluated risks. Unfortunately many companies limit their whole QRM system to the implementation of the FMEA method only. But it is much more than this and QRM can support the pharmaceutical industry in improving their processes and performance.
Target Group
This live online training course is designed for members of staff in pharmaceutical, biopharmaceutical and API industry's production and quality units, who establish, manage and use quality risk management systems.
Programme
ICH Q 9 - Quality Risk Management: an Overview
QRM in non-GxP industries
QRM in pharma
Historical GMP situation
Current rules and regulations
QRM tools and techniques
The Inspector's View on QRM
Expectations
Integration in the Pharmaceutical Quality System
Examples for good and not so good practice
How to realise Quality Risk Management in a GMP Environment
Integration
SOPs
Applications
Commissioning
QP Dispositioning
Applying Principles of QMR after an Incident has happened
A problem has occurred – how to perform a sound Risk Assessment of the situation and come to an appropriate decision.

Design of an Event Handling System based on a Quality System and Quality Risk Management Approach
QRM in the Quality System
Design of an Event Handling system based on QRM and Management Review
Use of QRM in the evaluation of events
Examples
Presentation and Exercise on Risk Management in the Supply Chain:
An interactive session to establish where to best concentrate your resources to maximise the assurance of a reliable supply chain:
Requirements
Life cycle of the supplier relationship
Frequency of Supplier Audits based on Risk Assessment
Defining risk in the audit program
Compliance risk assessment
How to implement Quality Risk Management in a pharmaceutical Company

Part 1: QRM Tools made practicable in daily QRM life
Comparison of ICH Q9 with other Norms and takeaways for Pharma
Strength of practical DMAIC methodology
QRM culture: principles and examples
Cost of Quality/Compliance
Part 2: Examples
Change Control
Monitoring
Maintenance
Technical Requirements
For our Live Online Training Courses and Webinars, we use Cisco WebEx, one of the leading suppliers of online meetings. At http://www.webex.com/test-meeting.html you can check if your system meets the necessary requirements for the participation at a WebEx meeting and at the same time install the necessary plug-in. Please just enter your name and e-mail address for the test. If the installation is not possible because of your rights for the computer system, please contact your IT department. WebEx is a standard nowadays and the necessary installation is fast and easy.