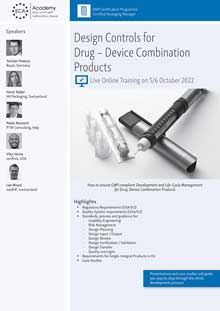 5/6 October 2022
Speakers
Torsten Kneuss, Bayer, Germany
Horst Koller, HK Packaging, Switzerland
Paolo Mazzoni, PTM Consulting, Italy
Vicky Verna, confinis, USA
Lee Wood, medHF, Switzerland
Objectives
This Live Online Training provides a comprehensive overview of the technical and regulatory requirements for the development and maintenance of drug-device combination products (with a focus on EU & US).

Participants will learn and understand
the basics – distinctions between drugs, devices and 'combination products',
the current applicable regulations, standards and guidelines related to the design and development of combination products and how to be compliant with those requirements
the key elements of Design Controls, Risk Management and Usability Engineering.
Case Studies are an integral part of the course Programme.
Background
More than half of the TOP20 drug products on the market include at least one device constituent part and are therefore considered Drug-device combination products. Drug-Device combination products are specifically regulated in the US. However, there is also an increasing oversight by regulatory authorities in the EU. GMP compliant development and life-cycle management are, therefore, essential for obtaining and maintain a marketing authorization for such products.

What is a Combination Product?

"Combination Product", as per 21 CFR Part 3.2(e), is a term defined by the FDA to cover products which consist of two or more components (i.e., drug, biologic, device) regulated under different regulations. The FDA differentiates between three basic types of combination products:
Single-entity combination products,
Co-packaged combination products,
Cross-labeled combination products.
Beyond these basic types also combinations of those basic types are possible.

During the past years, FDA established regulations and guidances for Combination Products, which further clarify what Combination Products are and which rules apply to such combinations.

21 CFR Part 4, along with the final guidance "Current Good Manufacturing Practice (cGMP) Requirements for Combination Products", provides guidance on applicable quality requirements for combination products.
One essential requirement is to apply Design Controls as defined in 21 CFR Part 820.30 to the combination product as a whole. Design Controls are a set of quality practices and procedures to control the design process to assure that the combination product meets the user needs, intended uses and specified requirements. Design Controls are described in ISO 13485 (applicable for Medical Devices), in ISO 15378 (applicable to primary packaging materials) and even in the general standard for quality management system ISO 9001

In the EU, so far, there has been no equivalent term to "Combination Product", a product is either considered a Medical Device or a Medicinal Product. Medical devices have to comply with the EU Medical Device Regulation (MDR). Even though the term Combination Product does not exist, also in EU, the Design Controls apply to the so-called single-integral products, which are similar to single-entity combination products as defined in the US.

Also shared in EU and US is the requirement to apply Risk Management to those products. The respective standard ISO 14971 has been revised in 2019. The course will consider the recent changes and provides guidance on how to apply Risk Management to drug-device combination products.
And lastly, also Usability Engineering, also known as Human Factors Engineering, needs to be considered in the Design and Development of combination products. The recent increase in attention to this topic has brought many manufacturers into difficulties as they aim to prove high levels of intuitive use, use safety and efficacy of the drug delivery system as a whole - for a Combination Product it is no longer just about the drug. Again, regulation, directives, guidance, standards and review expectations continue to evolve in this area.

This Live Online Training focuses on design controls as applicable to various combinations of drugs and biologics with devices. The course intends to set a solid basic understanding of the application on Design Controls as  well as on the topics of Risk Management and Usability Engineering. Beyond the basic understanding, the course also aims to offer some practical experiences with the different elements to be considered.
Target Group
This Live Online Training is designed for all scientists, engineers, managers and executives from Pharmaceutical and Biotech Development Units, including Device Development, Packaging Development, Quality Assurance, Regulatory Affairs, Marketing, and Project Management, who are involved in the development, industrialization and control of Drug-Device Combination Products.
Programme
Programme Day 1
Design Controls – An Introduction
Purpose of Design Controls / Usability Engineering / Risk Management
Drug Development vs. Device Development vs. Combination Product Development
Development vs. Transfer vs. Industrialization
Processes required
Design and Development Planning
Definition of development scope
Target Product Profile - How to determine the scope?
Design Reviews
Scope of DC
Segregation Device vs. Pharma company
EU Requirements for Single-Integral Products
How to demonstrate conformance with Annex I?
Setup of technical documentation
General safety & performance requirements
Introduction to Usability Engineering
IEC 62366-1
How to determine user needs, user preference, use specification etc.
Q&A Session 1

Introduction to Risk Management
ISO 14971: Terms/definitions, process, relevance for design controls
EU and US requirements
Determine Known Use Problems
Risk Management (Example)
How to determine risk mitigations for design Inputs
Update of risk management during development
Documentation of RM activities / RMF
Preparation of post-market surveillance / PMS planning
FDA Regulatory Expectations on Drug - Device Combinations
Types of Combination Products and impact on GMP Requirements
Which Medical Device Quality Systems are required and at which facilities are they required to be implemented?
Expectations for Clinical Phases and for Submissions
Post Marketing expectations
Case Study I: Pre-filled Syringes

Q&A Session 2
Programme Day 2
Design Input
From user needs and other stakeholder needs to design Input
How to integrate results from UE, RM
How to ensure "open-ended" development
Requirements for engineering techniques
Design Output
Development activities
Definition of design outputs (Specifications)
Design Verification
Design verification activities
How to consider verification during design Input
What to do if verification fails?
Q&A Session 3

Design Validation / Usabality Engineering Part 2
Design validation approaches
Planning, setup and conduct of summative studies
Documentation of the UE activities / UEF
HF/UE Report as required by FDA
Design Transfer
Design Transfer - Why and how?
DMR setup
Case Study II: Autoinjector Development
(Some considerations when utilising syringes in autoinjectors)

Q&A Session 4
Technical Requirements
We use Webex Events for our live online training courses and webinars. At
https://www.gmp-compliance.org/training/online-training-technicalinformation
you will find all the information you need to participate in our events and you can check if your system meets the necessary requirements to participate. If the installation of browser extensions is not possible due to your rights in the IT system, please contact your IT department. Webex is a standard nowadays and the necessary Installation is fast and easy.