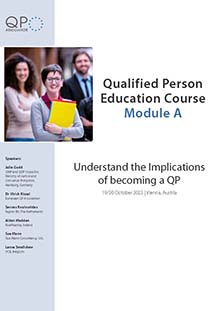 19/20 October 2022
Speakers
Julia Gudd, GMP and GDP Inspector, Ministry of Justice and Consumer Protection, Hamburg, Germany
Dr Ulrich Kissel, European QP Association
Savvas Koulouridas, Fagron BV, The Netherlands
Aidan Madden, FivePharma, Ireland
Sue Mann, Sue Mann Consultancy, U.K.
Lance Smallshaw, UCB, Belgium
Objectives
Broaden and intensify your knowledge of the Qualified Person's duties and responsibilities. Experts from the EQPA Board of Directors, pharmaceutical industry and regulatory authority will share their experience on important issues of the QP's daily business and will give first-hand information on current and future expectations.
Background
Over the last years the role and responsibilities of the Qualified Persons have been increasing considerably. As a key person in the company, the QP has to consider many issues and has to take up the challenges within its areas of responsibilities. Additionally, as laid out in Article 49 of the European Directive 2001/83/EC, the QP needs to be highly qualified and experienced. This education course is one important part to help the QP be on top of current developments in GMP and regulatory requirements.
Target Group
New and future Qualified Persons, QPs who are looking for ongoing training and personnel who want to get a detailed overview of the role and responsibilities of a QP.
Programme
The Legal and Professional Duties of the Qualified Person
The Qualified Person within the EU legislation and regulation framework
Professional tasks, duties and responsibilities
Expectations of an EU GMP Inspector
Update on European Requirements
EU GMP Guide Chapters
EU GMP Guide Annexes
Other important News
What the QP needs to be aware of
Delegation of Duties and Responsibilities
Possible scenarios according to Annex 16
Mutual Recognition Agreements (MRA)
Documentation review issues
The QP in the quality system
Workshop on Case Studies: QP Discretion and Batch Certification
Batch certification: degrees of freedom and limits
Batch deviations and QP Certification: To certify or not, that's the question
What the QP needs to know about Pharmacopoeias
The world of different Pharmacopoeias
Pharmacopoeias are more than just Monographs
How to deal with different methods
Workshop: What the QP needs to know about QC and OOS/OOT
Involvement of the QP
Role and responsibility of the Head of Quality Control
Responsibility of the QP
What the QP needs to know regarding the Supply Chain (from Supplier Qualification to GDP)
The QP: ultimate responsibility for the supply-chain of a drug product?
What is the expected scope of supply chain oversight
Supply chain integrity
Active Pharmaceutical Ingredient, Excipients, Bulk and Finished Product
Shipping under quarantine, ship to label claim, importation testing
The role of the QP in supplier qualification and auditing
Written confirmation and QP Declaration
GMP meets GDP: where does the responsibility end?
The QP's involvement in the recall process
How the QP fits into the Quality Systems
How much involvement is needed in systems like:
Product Quality Review
Inspection Management
Batch Record Review
CAPA
Change Control
Validation
Complaints and recalls
Liability and Indemnification
Liability and indemnification of QPs
Role and responsibility of head of production and head of quality control (when things go wrong)
Role and responsibility of upper management (when things go wrong)
Delimitation of responsibilities with QPs in the same company
Delimitation of responsibilities with QPs at a contractor
Workshop: Deviations during the Manufacture of an API