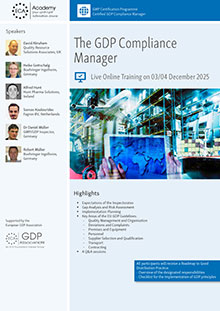 11/12 October 2022
Speakers
David Abraham, Quality Resource Solutions Associates, UK
Heike Gottschalg, Boehringer Ingelheim, Germany
Isabelle Herre,  GDP Inspectorate, Germany
Alfred Hunt, Hunt Pharma Solutions, Ireland
Savvas Koulouridas, Fagron BV, Netherlands
Robert Müller, Boehringer Ingelheim, Germany
Objectives
This Live Online Training provides practical guidance to bring and keep your organisation in compliance with the GDP regulations.
Background
The globalisation of the pharmaceutical supply chain has created new challenges for the manufacture and supply of medicinal products in various markets, resulting in reduced control and increased security risk to the products.   

The EU-GDP Guidelines have been extensively revised to take into account the changing nature of the globalised supply chain.  The new requirements have been effective since 2013. These requirements highlight the need for an effective quality management system supported by risk assessment and appropriate controls.
This two-day Live Online Training has been designed to bring you up-to-date with the current regulatory expectations and standards for Good Distribution Practice (GDP) and to provide you with tools and guidance to help you with identifying the gaps in your quality systems and planning and implementing the actions required.
Target Group
GDP Compliance Managers and Responsible Persons from companies involved in the distribution and supply of medicinal products.
Programme
Welcome and Introduction

The GDP Guidelines: What is it all about?
Background to development and revision of the new
EU GDP Guidelines
Well-known or new: A summary of the most important changes
A look into the crystal ball: What is the impact on industry and other stakeholders?
Quality Management System (QMS)
 What is a QMS and why do we need it?
 What does an effective QMS look like?
 How to develop and implement an effective QMS
Operations
 Qualification of suppliers and customers
 Receipt,  storage and return of medicinal products
 Deviation and Complaint Management in a wholesaler facility
How to conduct a gap analysis, develop plans and implement the new requirements
Questions & Answers Session I

GDP Inspection Findings and what to learn from them
 Findings and their ratings
 Examples from manufacturers, wholesalers, storage facilities and transport deviations
Personnel
Competency  requirements for GDP personnel
Overview of the role and responsibilities of the
Responsible Person
Necessary documentation
Training matrix and managing continuous training
Questions & Answers Session II
Premises & Equipment
 What is a must for medicinal products
 How to plan and implement facility improvement ensuring compliance with the current requirements
Transportation
 Key requirements for transportation of medicines
 How to develop and implement a GDP-compliant and cost effective transportation network.
Contracts in the Global Supply Chain
International laws and systems – how they work and fit together
Jurisdictions and conflict of law provisions
Contract law, Technical/ Quality Agreement, Supply Agreement
3PL Providers: two bilateral agreements or one tripartite agreement?
When things go wrong
Questions & Answers Session III

Outsourced Activities
 What is an outsourced activity?
 How to set priorities to audit, approve and manage service providers
 How to develop and manage contracts and agreements
Case Study for a successful Implementation Approach
 How we approached the new requirements
 Challenges and best practice
Short Summary and Take Away Message
 Developing a take home action plan for the delegates
Questions & Answers Session IV
Technical Requirements
For our Live Online Training Courses and Webinars, we use Cisco WebEx, one of the leading suppliers of online meetings.
At http://www.webex.com/test-meeting.html you can check if your system meets the necessary requirements for the participation at a WebEx meeting and at the same time install the necessary plug-in.  Please just enter your name and email address for the test. If the installation is not possible because of your rights for the computer system, please contact your IT department. WebEx is a standard nowadays and the necessary installation is fast and easy.