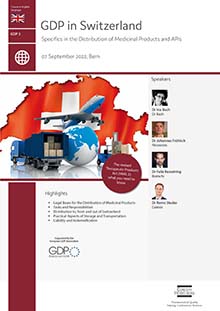 7 September 2022
Speakers
Dr. Ina Bach, Dr. Bach
Dr Johannes Fröhlich, Akroswiss
Dr Felix Kesselring, Bratschi
Dr Remo Studer, Galexis
Objectives
Learn and discuss how to manage your distribution activities GDP-compliant.
Exchange opinions and convey possible solutions to problems addressed in case studies.
Benefit from the speakers' experience in industry, authority and legal advice.
Background
Quality requirements for medicines do not end after production and packaging. Medicines and APIs are often shipped over long distances and different climate zones and stored in various warehouses. Once the WHO has taken the lead with its guidelines "Good Storage Practices for Pharmaceuticals" (2003) and "Good Distribution Practices for Pharmaceutical Products" (2010), more and more compliance with good storage, transportation and distribution practice was emphasised worldwide. Another milestone were the EU-GDP guidelines from 2013 with a lot of intensified demands.

For quite a while it was rather unclear how these guidelines are applicable in the non-EU country Switzerland. Under the Agreement of 21 June 1999 between the Swiss Confederation and the European Community (Mutual Recognition Agreement, MRA), Switzerland obliged to comply with the EU-GMP regulation. However GDP was not covered.

Since 1 July 2015, the EU GDP guidelines do also apply for Switzerland (final implementation on January 1st 2016). This was realised through an adaptation of Annex 2 of Ordinance on EstablishmentLicences(Arzneimittel-Bewilligungsverordnung - AMBV or Ordonnance sur les autorisations dans le domaine des médicaments - OAMéd).

On 1 January 2019, the revised Therapeutic Products Act (HMG 2) and the majority of the revised implementing ordinances (Therapeutic Products Ordinance Package IV) came into force - with some interesting changes.

Various transitional provisions for licenses issued under the old legislation are defined. However, for all new/renewed applications, the new legislation will apply in its entirety.
Target Group
This course has been designed for employees, specialists and managers from storage, transportation and distribution as well as their colleagues from quality control, quality assurance and production, which are involved in the various processes of drug logistics.
Programme
Legal Bases for the Distribution of Medicinal Products 
Legal basis in Switzerland including EU regulations
The Ordinance on Establishment Licences OEL (AMBV,  OAMéd)
The revised Therapeutic Products Act (HMG 2): relevant changes
GMP/GDP Interface
Working with contractors
Practical Implementation in Switzerland
 The GDP Inspection: what do inspectorates expect and how to prepare
 Wholesaler vs. Pre-Wholesaler: interfaces and delimitation
 Transport at storage conditions: best practices
 Case Study: transport validation
Tasks and Responsibilities
Requirements and due diligence for the Responsible Person according Art. 9 and 13 of the Ordinance on Establishment Licences
Storage and distribution: current expectations
Cross-border Distribution: Requirements for Import and Export
Requirements for specific products 
Qualification of suppliers and recipients
Senior Management
Responsible Person
Liability
 Principles of liability
 Who is liable?
 Potential sanctions
 Examples from the real life, case law
Storage and Transport: Practical Aspects (Interactive Session)
a) Warehouse
Requirements
Qualification
Mapping
Hygiene
Documentation
b) Transport
Transport qualification/ validation
Transport at ambient conditions: expectations and control
Deviation Management
Cool and cold chain
Risk Analysis
Training