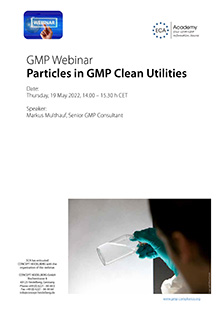 Thursday, 19 May 2022 14.00 - 15.30 h
Speakers
Markus Multhauf, Senior GMP Consultant
Objectives
Background
The requirements for particles in pharmaceutical water and pure gases are sometimes contradictory, sometimes even technically difficult to realize. There is also a gray area between visible and nonvisible particles. Uncertainty also exists with regard to filters: whether they can be used in critical utility systems and how they should be validated.
Particles in Parenteralia continue to be an "issue", leading to product recalls. In addition to the 100% visual inspection of final products, the fundamental reduction of the particle load in the manufacturing processes is an important aspect of the Quality Life Cycle. In this context, clean utilities play an essential role.
Target Group
This webinar is designed for production & engineering professionals in pharmaceutical and biotech manufacturing, as well as for Quality assurance personnel who is dealing with particles in water and gas. It may also be useful for employees in plant construction and planning, who are concerned with the GMP-compliant construction or conversion of clean utility systems.
Programme
This webinar will help you gain a practical understanding of the design and operation of media systems in terms of particle content. You will gain knowledge to differentiate important and correct GMP requirements from outdated or incorrect requirements. Based on the specifications of pharmacopoeias and standards, participants will learn about the state of the art for the different media and particle size ranges. Technical solutions are presented.
The following points, among others, are subject of this webinar:
Differentiation between visible and "non-visible" particles
Available measurement technology for particles
Filter technology for media Systems
Relationship between particles and microbiology
Particle problems in practice

Pharmacopoeial statements: USP <788> and Ph.Eur. 2.9.19
Relationship between rouging and particles
Is there particle-free WFI?
Requirements of DIN 58950-7 and EN 285 for pure steam
Technical Requirements
For our webinars and Live Online Training Courses, we use Cisco WebEx, one of the leading suppliers of online meetings. At
http://www.webex.com/test-meeting.html
you can check if your system meets the necessary requirements for the participation at a WebEx Meeting and at the same time install the necessary plug-in. Please just enter your name and email address for the test. If the installation is not possible because of your rights for the computer system, please contact your IT department. WebEx is a standard nowadays and the necessary installation is fast and easy.