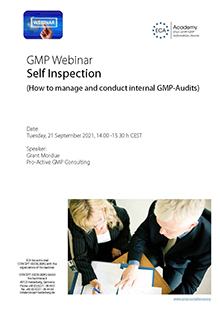 Tuesday, 21 September 2021 14.00 - 15.30 h
Speakers
Grant Mordue, Pro-Active GMP Consulting
Objectives
Background
In the EU Guide to GMP, Chapter 9 on Self Inspection it is said that "self inspections should be conducted in order to monitor the implementation and compliance with Good Manufacturing Practice principles and to propose necessary corrective measures". Basically this is pretty much similar to an external audit at a third party manufacturer or a supplier. But there are some special aspects to consider.

One special challenge for internal auditors is to be team member on the one hand but to question established practices and to identify gaps on the other hand. In this case, the (internal) auditor is an extension of the quality system whose purpose is to limit the risk to patient, while being part of the quality system in question.
Target Group
Personnel involved in planning, managing and conducting GMP self inspections.
Programme
The aim of this webinar is to provide participants with a comprehensive yet compact overview of:
Set up of the self inspection programme "
Preparation and planning the audit "
Who is auditing? "
Differences to an external audit; challenges, possible problems and solutions "
How to write a self inspection report
Technical Requirements
For our Live Online Training Courses and Webinars, we use Cisco WebEx, one of the leading suppliers of online meetings. At http://www.webex.com/test-meeting.html you can check if your system meets the necessary requirements for the participation at a WebEx meeting and at the same time install the necessary plug-in. Please just enter your name and email address for the test. If the installation is not possible because of your rights for the computer system, please contact your IT department. WebEx is a standard nowadays and the necessary installation is fast and easy.