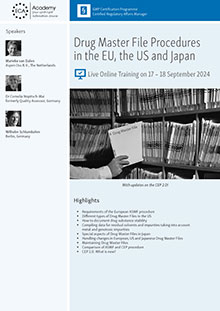 29/30 September 2021
Speakers
Marieke van Dalen, Aspen Oss B.V., The Netherlands
Hiltrud Horn, Horn Pharmaceutical Consulting, Germany
Usfeya A Muazzam, Bonn, Germany
Wilhelm Schlumbohm, Berlin, Germany
Objectives
This education course is intended to provide guidance on the procedures for the European ASMF, the US-DMF and the Japanese DMF.

You will get to know
 how to describe manufacturing processes
 how to compile data for drug substance stability, impurities and residual solvents
 which are the important points to consider for US-DMFs
 which are the requirements for Japanese DMFs
 how to handle changes in European, US- and Japanese DMFs
 which are the major differences and advantages of the ASMF and CEP procedure
Participants will have the opportunity to join one of two parallel workshops about
 Description of the manufacturing process
 Managing changes in Drug Master Files
Background
Documentation of the drug substance quality is an integral part of any marketing authorisation application. In Europe the most common document for this purpose is the Active Substance Master File (ASMF) as long as the applicant has no Certificate of Suitability of the pharmacopoeial monograph (CEP). The European ASMF procedure differs significantly from the US-DMF procedure and for strategic reasons it is very important to take these differences into account. Moreover there are particular requirements for DMFs in Japan. For global acting companies it is a big challenge to handle the different procedures of compiling, submitting, changing and maintaining Drug Master Files in an efficient way.
Target Group
The education course is designed for all persons involved in the compilation of pharmaceutical dossiers for marketing authorisations especially for Drug Master Files who want to become familiar with the different DMF procedures. Furthermore, the course will be of interest to personnel from Quality Units of the pharmaceutical and the API industry.
Programme
The European Active Substance Master File Procedure – An Introduction
Regulatory background and Scope
The revised ASMF Guideline
Open and closed parts – points to consider
Comparison of ASMF and CEP procedure
Drug Master File Procedures in the US
Types of Drug Master Files
Drug Master Files under GDUFA
Submissions of DMFs
Holder obligations
Maintenance of Drug Master Files
US vs EU DMF – differences in the procedure
How to Document Drug Substance Stability
Stability Guidelines
Stability Testing of new drug substances and drug products
Storage Conditions
Bracketing and Matrixing Designs
Stability data from new drug dosage forms
How to document evaluation of stability data
Optimising the submission
Residual Solvents and Impurities: Synthesis Derived Impurities, Metals and Genotoxic Impurities
Guidelines
Impact of the new guidelines ICH Q3D and ICH M7
Sources of Impurities
Setting and justification of specifications
Residual solvents, solvent classes
Content and scope of data – documentation requirements
Frequent mistakes
Post Approval Changes in the US
 Post approval activities
 Reporting requirements to the FDA (CBE 0, CBE 30, Annual Report)
 Post approval commitments and post approval reporting requirements
 Risk evaluation and mitigation strategies (REMS)
Handling Changes in European Drug Master Files
 Why is there a need for changes
 Types of changes
 How to communicate with the MA holders and how to get feed back
 Differences between ASMF and CEP
 When to implement a specific change
 Version management of the ASMF
Requirements of the Drug Master File Procedure in Japan
Regulatory procedures in Japan:

Site accreditation
GMP paper based inspection
Drug Master File

Drug Master File Format
Specific points to consider for the J-DMF
Communication with the Japanese authorities
Changes and Maintenance of Japanese Drug Master Files
Change procedures and communication with the Japanese authority
Types of changes
Notification of changes
Comparison of the CEP and ASMF Procedure
The certification scheme of the Ph.Eur.
Advantages and disadvantages of the CEP procedure compared to the ASMF procedure
Handling of variations in the CEP procedure
Countries accepting CEPs
Workshop: Managing Changes in Drug Master Files - Case Studies
Technical Requirements
For our Live Online Training Courses and Webinars, we use Cisco WebEx, one of the leading suppliers of online meetings.
At http://www.webex.com/test-meeting.html you can check if your system meets the necessary requirements for the participation at a WebEx meeting and at the same time install the necessary plug-in.  Please just enter your name and email address for the test. If the installation is not possible because of your rights for the computer system, please contact your IT department. WebEx is a standard nowadays and the necessary installation is fast and easy.