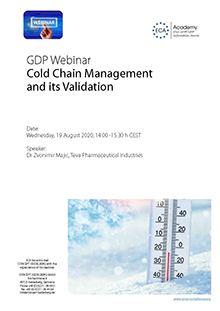 Wednesday, 19 August 2020 14.00 - 15.30 h
Speakers
Dr Zvonimir Majic, Teva Pharmaceutical Industries Ltd., Croatia
Objectives
Background
Growing regulatory expectations regarding pharmaceutical storage, transport and cold chain management are forcing the pharmaceutical industry to challenge their current practices.
For temperature sensitive products, different regulations apply. For example, the EU-GDP Guidelines (2013/C 343/01) state that "qualified equipment (e.g. thermal packaging, temperature-controlled containers or temperature-controlled vehicles) should be used to ensure correct transport conditions are maintained between the manufacturer, wholesale distributor and customer." According to USP General Chapter 1079 "vehicles designated to provide appropriate temperature range for the product being shipped should be used." More regulatory documents around the globe are emphasizing need of having qualified shipping systems in place. Besides the logistics service providers, packaging (active or passive), transport modes and lanes and vehicles require risk assessment and qualifications. This webinar will provide insights on how to ensure compliance in this important GDP aspect.
Target Group
This webinar addresses itself to all managers, supervisors and other staff members who are involved in pharmaceutical cold chain management. Those are e.g. employees from the following industries:
Pharmaceutical manufacturers (e.g. logistics and QA)
Drug wholesaler
Logistics companies
External warehouses
Further service providers in the distribution of pharmaceuticals
Programme
The aim of this webinar is to give participants a comprehensive yet compact overview of cold chain management and its validation. The following topics are addressed:
Regulatory requirement
Qualification vs. validation
Cold chain management system components
Qualification of logistic service providers
Qualification of temperature-controlled shipping system for pharmaceutical products
Transport equipment qualification
Risk evaluation, quality control and monitoring
For our webinars, we use Cisco WebEx, one of the leading suppliers of online meetings.
At http://www.webex.com/test-meeting.html you can check if your system meets the necessary requirements for the participation at a WebEx meeting and at the same time install the necessary plug-in.  Please just enter your name and email address for the test. If the installation is not possible because of your rights for the computer system, please contact your IT department. WebEx is a standard nowadays and the necessary installation is fast and easy.