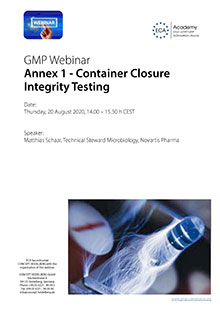 Thursday, 20 August 2020 14.00 - 15.30 h
Speakers
Matthias Schaar, Technical Steward Microbiology, Novartis Pharma
Objectives
Background
Container Closure Integrity in pharmaceutical sterile production is a requirement to maintain sterility of the drug product. After the USP chapter <1207> had a major update in 2017 with regard to testing methods and testing recommendations the new Draft of Annex 1 "Manufacture of sterile medicinal products" of the EU GMP Guide also implemented a more detailed discussion about Container Closure integrity testing. The first revised version published in 2017 resulted in discussions about testing strategies which leaded to a new revised version published in February 2020.
Target Group
This Webinar is of interest to professionals from pharmaceutical and biopharmaceutical manufacturers, authorities and suppliers with responsibilities in
- Quality Assurance and Quality Control
- Inspection and Auditing
or who are involved in
- Sterile/Aseptic Manufacturing
- Contamination Control and Monitoring
- Process Simulation/Media Fill
Programme
This webinar will give you a short overview about Container Closure requirements and method discussions and focuses the planned implementations in Annex 1 considering both drafts with regard to Container Closure Integrity Test.
Technical Requirements
For our webinars, we use Cisco WebEx, one of the leading suppliers of online meetings.
At http://www.webex.com/test-meeting.html you can check if your system meets the necessary requirements for the participation at a WebEx meeting and at the same time install the necessary plug-in.  Please just enter your name and email address for the test. If the installation is not possible because of your rights for the computer system, please contact your IT department. WebEx is a standard nowadays and the necessary installation is fast and easy.