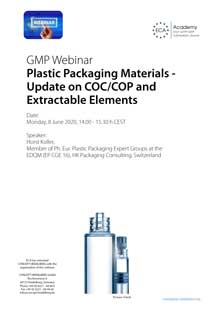 Monday, 8 June 2020 14.00 - 15.30 h
Speakers
Horst Koller, Member of Ph. Eur. Plastic Packaging Expert Groups at the EDQM (EP CGE 16), HK Packaging Consulting, Switzerland
Objectives
Background
The quality of plastic materials has an impact on the quality of plastic containers for pharmaceutical use and thus on the medicinal product. Of particular relevance are the widely used plastic materials COP (cycloolefin polymer) and COC (cyclo-olefin copolymer). In the recent issue of Pharmeuropa drafts for three new Ph. Eur. chapters on plastic materials have been published for comment (public deadline: 30 June 2020):
- 3.1.16. Cycloolefin-Polymere (COP)
- 3.1.17. Cycloolefin-Copolymere (COC)
- 2.4.35. Extractable elements in plostic materialsfor pharmaceuticol use

The new Ph. Eur. chapters give specifications for COC / COP materials, used, for example, in the manufacture of prefillable syringes. According to Pharmeuropa, they "follow the same structure as other general chapters on plastic materials in Ph. Eur. Subsection 3.1.". However, there are two major changes in relation to the existing chapters:
Additives.It is clarified that "The supplier of the material must be able to demonstrate that the qualitative and quantitative composition of each production batch complies with that of the type sample."
Extractable Elements: The proposed monographs include the testing for
- Specific elemental impurities,
- Elemental impurities that are common to various plastic materials currently on the market. They are to be controlled according to the new general Ph. Eur. chapter 2.4.35. Extractable elements in plastic materials.
In comparison, the new USP Chapter <661.1> Plastic Materials of Construction states: "it is being left up to the material user to evaluate the need for extractable elements testing and, if such testing is necessary, to establish and justify the means by which testing is accomplished".
 
This webinar will provide a detailed update on the recent developments in the area of these plastic packaging materials.
Target Group
Members of staff and executives from the pharmaceutical industry working in the field of research and development, regulatory affairs, quality control, incoming goods control of packaging materials, quality assurance, production and packaging. Employees of suppliers and/or manufacturers of plastic packaging materials for the pharmaceutical industry.
Programme
- COP and COC Plastic Materials in the Pharmaceutical Industry
- Chemical and Physical Properties
- Application examples
- Pharmacopoeial Compliance Testing (USP / Ph. Eur.)
- Extractable Elements
- Question and Answers
Technical Requirements
For our webinars, we use Cisco WebEx, one of the leading suppliers of online meetings.
At
http://www.webex.com/test-meeting.html
you can check if your system meets the necessary requirements for the participation at a WebEx meeting and at the same time install the necessary plug-in.  Please just enter your name and email address for the test. If the installation is not possible because of your rights for the computer system, please contact your IT department. WebEx is a standard nowadays and the necessary installation is fast and easy.