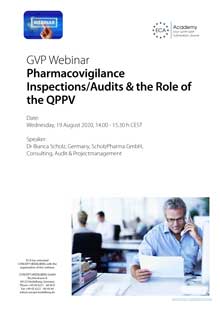 Wednesday, 19 August 2020 14.00 - 15.30 h
Speakers
Dr Bianca Scholz, Germany, ScholzPharma GmbH, Consulting, Audit & Projectmanagement
Objectives
Background
In recent years, the pharmacovigilance system (PVS) has turned into a highly complex procedure. Numerous regulations require marketing authorization holders to significantly increase PV standards and to review them regularly. For example, the EMA has recently published a new document on follow-up activities following pharmacovigilance inspections.

What are the tasks and responsibilities of the Qualified Person for Pharmacovigilance (QPPV)? How to implement the requirements in practice - correct and inspection-ready? What is the best way to fulfil the requirement to conduct audits and pharmacovigilance inspections?

This webinar will answer these and other questions and show risk-based approaches on how to deal with the increasing number of audits - e.g. by focusing on audits particularly in critical areas. In this way, time and resources can be saved.
Target Group
This seminar is for QPPVs and all employees, specialists and managers of companies and institutions who are responsible for the pharmacovigilance system and/or for the planning and conducting of PV audits / inspections.
Programme
Role of the QPPV
Responsibilities of the QPPV
Review of the PV system / regular audits
Audits in an international environment:

Planning
Preparation
Execution
Follow-up of pharmacovigilance inspections: Post-inspection actions and CAPA management

Remote audits, joint Audits
Technical Requirements
For our webinars, we use Cisco WebEx, one of the leading suppliers of online meetings.
At http://www.webex.com/test-meeting.html you can check if your system meets the necessary requirements for the participation at a WebEx meeting and at the same time install the necessary plug-in.  Please just enter your name and email address for the test. If the installation is not possible because of your rights for the computer system, please contact your IT department. WebEx is a standard nowadays and the necessary installation is fast and easy.