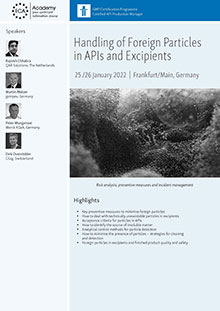 4/5 February 2020
Speakers
Rajnish Chhabra, QAR Solutions, The Netherlands
Martin Melzer, Chemgineering, Germany
Peter Mungenast, Merck KGaA, Germany
Dirk Overrödder, Cilag, Switzerland
Objectives
During this course all relevant aspects regarding the control of particles in APIs and excipients will be discussed.

You will learn
 How potential sources of insoluble matter can be identified
 Which acceptance criteria for particles can be applied
 How good practices to minimise the presence of particles in APIs can look like
 What has to be considered regarding control of particles during plant and equipment maintenance and cleaning
 How a particulate contamination profile can be established.
Background
Visible particles, insoluble particles or matter or foreign particles in Active Pharmaceutical Ingredients (APIs) and pharmaceutical excipients are  topics of great interest and of importance to the pharmaceutical industry.

A number of inspectional observations from various Regulatory Authorities related to visible particles in Drug Products and APIs has risen considerable concern. Moreover inappropriate methods of investigation, controls and preventive and corrective actions were all subjects of citations by authorities and observations by API and excipient customers.

Particles have always been present in APIs and excipients but guidance from health authorities (EMA, FDA, others) or Pharmacopoeias (e.g. EP, USP) about particles is very limited. The APIC Guidance on Insoluble Matter and Foreign Particles in APIs and the IPEC Guide on "Technically Unavoidable Particle Profile (TUPP)" are the only best practice documents so far providing guidance for a standard approach towards an appropriate control of foreign particles in APIs and pharmaceutical excipients.
Target Group
This course is addressed  to employees and senior staff of pharmaceutical companies and manufacturers of APIs and excipients. The course is of particular interest to all those working in Quality Assurance, Quality Control, production and purchasing departments.
Programme
Particles and insoluble matter in API manufacturing: why is it a topic of great interest?
 Definition of particles
 Types of particles
 Possible reasons for the elevated presence of visible particles
 Hints in guidances on how to deal with visible particles
 Inspectional observations
 Expectations of API manufacturers, API users, API suppliers and supervisory authorities regarding visible particles in APIs
Foreign Matter in pharmaceutical Excipients – how to deal with "Technically Unavoidable Particles" (TUPs)
Incident management – how to identify the source of insoluble matter
 Potential sources of insoluble matter
 Root cause analysis – examples of investigation techniques and aids
 Risk assessment: topics to be considered during the investigation/disposition decision
Acceptance criteria for particles in APIs
 Types of dosage forms and routes of administration
 Typical limits for particle size seen via a filter test
 Proposal for limits
Good practices to minimise the presence of particles in APIs – key preventive measures
Typical construction materials in API manufacturing plants as source of particles
Effective cleaning procedures
Pretreatment of equipment/product contact utilities
Inspection of equipment before and after production
Cleaning after repairs
 Essential written procedures covering maintenance and cleaning procedures Environmental conditions during open handling in final stages of API manufacturing
Effective training of operators
Analytical control methods for particle detection
 General conditions: design of an appropriate sampling process
 Application of different inspection techniques: filter test, visual inspection etc.
 Metal detectors, metal separators
 Weighing and/or visual inspection of pieces of equipment
 Periodic review of security sieves and/or filters
How can routine cleaning procedures detect or minimize the presence of particles in API production?
 Guides and Industry Standards regarding cleaning
 Equipment cleaning
 Production environment cleaning
 Equipment design considerations
 Detection/removal methods of particles
 Preventive measures
Foreign Particles in Excipients and Finished Product Quality and Safety
 Contamination Profile of Excipients meets Finished Product Quality Target Product Profile
 Excipient Process Risk Analysis and TUPP/ Particulate Contamination Profiling