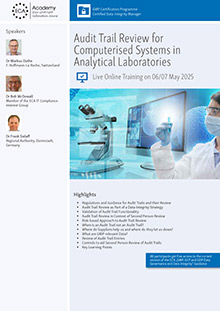 28/29 January 2020
Speakers
Dr Markus Dathe, F. Hoffmann-La Roche AG, Basel, Switzerland
Dr. Bob McDowall, Member of the ECA IT Compliance Interest Group
Dr Frank Sielaff, GMP Inspector, Regional Authority, Darmstadt, Germany
Objectives
The objectives of this ECA educational course are to provide:
 An understanding of the regulatory requirements for audit trail review of laboratory computerised systems
 Understand what is meant  review by exception
 Who should perform the second person review?
 Discuss audit trail examples for attendees to identify potential data integrity issues
 Present examples of audit trail entries for attendees to identify potential data integrity issues
Background
EU GMP Annex 11 on computerised systems has required "regular review" of audit trail entries since its publication in 2011.  In addition, the data integrity guidance documents issued by MHRA, WHO, FDA, EMA and PIC/S over the past few years reiterates the need for review of audit trail entries as part of a second person review of analytical data.  However, like all regulations and guidance these documents emphasise the "what" that must be done but leave the "how" to each laboratory to interpret and then implement.  For example:
 Do I need an audit trail function for all software?
 How regular is a regular review of audit trail entries?
 In some organisations, there is confusion about who should review audit trail entries - is this a laboratory or quality assurance role? 
 What does a risk based or review by exception of audit trail entries really mean and do all laboratory informatics applications offer this approach?
This is also compounded by the fact that most laboratory software applications were initially designed before data integrity issues took centre stage in the eyes of the regulators.  How can GMP regulated organisations influence software suppliers?

This course is designed to help GMP organisations understand what is involved in a review of audit trail entries and how to conduct a risk based review.
Target Group
Managers and staff from Quality Control and Analytical Development Laboratories of pharmaceutical companies
Contract Research Organisation and Contract Manufacturing Organisation laboratory personnel
Quality Assurance staff involved in reviewing laboratory data or performing data integrity audits
Auditors (internal and external) responsible for performing self-inspections or external audits and needing to understand and assess data integrity
Programme
Introduction to the Course

Regulations and Guidance for Audit Trails and their Review
An overview of the regulatory framework: EU, FDA, MHRA, WHO and PIC/S regulations
Data life cycle in Analytical Laboratories
Audit Trails in GMP-Inspections: What are the expectations of the inspector?
Audit Trail Review as part of a Data Integrity Strategy
Define ATR as element of the DI Strategy
Risk Based Approach – how to apply
Apply a systematic approach to define ATR
Audit Trail Review concepts 
Validation of Audit Trail Functionality
Specification of audit trail requirements in the URS: do's and don'ts
Documentation of the application configuration for audit trail functionality
Leveraging the supplier's development and testing into your validation effort
User acceptance testing of audit trail functionality
Audit Trail Review in Context of Second Person Review
Overview of the analytical process from sample to reportable result
Highlight the use of computerised systems and audit trails
Use technical controls to focus review effort
Audit trail review issues for manually entered data into a laboratory system and electronic transfer between systems
When is An Audit Trail not an Audit Trail?
What do we look for in an application for auditing?
Which audit trail(s) should I review?
Event logs vs. audit logs
Where Do Suppliers Help Us and Where Do They Let Us Down?
What do we expect from the suppliers to support data and audit trail review?
Identify and avoid typical pitfalls
Data ownership
Data packaging and storage – supplier vs. business 
What are GMP-Relevant Data?
Annex 11 requires that audit trails monitor GMP-relevant data – what are GMP relevant data?
What are critical data and how can they be determined?
Direct/indirect, static/dynamic data
Data, Audit Trail and criticality? 
Review of Audit Trail Entries
Guidance for "regular review" of audit trails
Process versus system: avoiding missing data integrity issues when only focussing on a per system review
What are we looking for in an audit review?
Suspected data integrity violation - What do we need to do
Controls to Aid Second Person Review of Audit Trails
Technical considerations for audit trail review e.g. identifying data that has been changed or modified – how the system can help Documenting the audit trail review has occurred
Review by exception – how technical controls can help
Have you specified and validated these functions?
Open Discussion: Bring Us Your Audit Trail Problems

Key Learning Points and Final Discussion

Workshop 1: Validation of Audit Trail Functionality
 The attendees will review user requirements for audit trail functions to highlight good and bad practices and from good requirements design tests to verify correct functionality
 Documenting the assumptions, exclusions and limitations of your chosen test approach
Workshop 2: Which Audit Trail to Review?
Attendees will be presented with an overview of the audit trails within a chromatography data system and the content of each one.  Which audit trails should be reviewed and when?

Workshop 3: Identifying GMP Relevant Data
Using facilitated discussion, attendees will develop a matrix for risk based audit trail review.  Then they will apply the principles to a list of laboratory records to identify if they are GMP records to help focus the second person review of audit trail data.

Workshop 4: Reviewing Audit Trail Entries Part 1
Attendees will be provided with a series of audit trail entries at the system level to review.  Are there any potential data integrity issues to be followed-up?

Workshop 5: Reviewing Audit Trail Entries Part 2
Attendees will be provided with a series of audit trail entries at the data capture and interpretation level to review.  Are there any potential data integrity issues to be followed-up?
Bonus
All participants get a free copy of the current version of the ECA "Data Governance and Data Integrity for GMP Regulated Facilities" Guidance