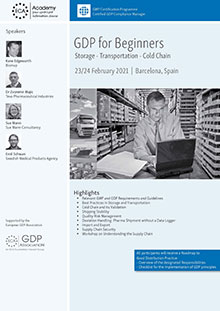 4/5 February 2020
Speakers
Kane Edgeworth, Biomap, U.K.
Afshin Hosseiny, Ph.D., Tabriz Consulting Ltd., U.K.
Dr Zvonimir Majic, Teva Pharmaceutical Industries Ltd., Croatia
Emil Schwan, Medical Products Agency, Sweden
Objectives
During this course, well experienced speakers will share their expert knowledge about all relevant aspects regarding the current GMP and GDP requirements and current developments in storage, transportation and Cold Chain Management of medicinal products. You will learn how these requirements evolve and how they can be implemented efficiently.
Background
Globalisation, counterfeiting problems and the expectations regarding pharmaceutical storage, transport and cold chain management are forcing the pharmaceutical industry to challenge their current practices. Companies have to increase their effort and validation activities as one prerequisite for safe and secure storage and transportation of their medical products over boarders and through various climatic conditions.

Directives, Guides, Guidelines and initiatives from various regulatory bodies lead the way in this development and define expectations and requirements, where Good Manufacturing Practices (GMP) and Good Distribution Practices (GDP) are closely linked.

Compliance with these guidelines will ensure control of the distribution chain and consequently maintain the quality and the integrity of medicinal products. (EU-GDP Guidelines)
Target Group
This education course is designed for all managers, supervisors and other staff members who are involved in pharmaceutical storage, transportation, cold chain and distribution activities and the control of those activities.
Programme
Regulatory Requirements and Guidance
What are the rules and regulations?
Who is responsible for maintaining product quality in the supply chain
Cold Chain and ambient storage and transportation
The revised EU Guidelines on Good Distribution Practice (GDP)
Who needs a Responsible Person (RP)?
The Roadmap to Success
Background and comments
Delineation of responsibilities
Introduction to the checklist
Best practices in Storage
(how to implement requirements and stay efficient)
Defining your specification
How to set up an adequate storage facility
15-25°C and 1-8°C storage
Temperature Mapping
Warehouse, vehicle & cold storage case studies

Protocol preparation
Seasonal variations
Impact tests
Results and reporting
EU-GMP Guidelines
Where special storage conditions are required (e.g. temperature, humidity) these should be provided, checked and monitored. (3.19)
 
EU-GDP Guidelines
An initial temperature mapping exercise should be carried out on the storage area before use, under representative conditions. (3.2.1)
If temperature-controlled vehicles are used, ... temperature mapping under representative conditions should be carried out. (9.4)
 
Workshop: Understand your Supply Chain
Selection of the supply route
Process mapping of a supply chain
Developing a QMS for supply chain (Policies, SOPs, documentation & Training)
Cold Chain Management and its Validation
Validation of transport and hold time
Validation vs. monitoring
Qualification of various transport routes
Data collection and evaluation
Best Practices in Transport and Logistics
How to implement the requirements and stay efficient
Managing 15-25°C  and 2-8°C transportation
Challenges that different modes of transportation introduce to pharmaceuticals
Shipping Stability
What should industry do and deliver
Using stability data to assist in supply chain design
What is the necessary data to discuss excursions
Discussion of possible deviations and excursions
Supply Chain Security
Anti-counterfeiting strategies
What the agencies can do
What industry can do
Compliance issues
Import and Export under new Circumstances
New and possible future regulations impacting import and export (e.g. Annex 21, MRA)
Political developments impacting import and export (e.g. Brexit, trade Embargos)
Roadmap to Good Distribution Practice
All participants receive a Roadmap to Good Distribution Practice containing:
An overview of the designated Responsibilities for Senior Management, Responsible Person and Authority
A checklist for the implementation of GDP principles