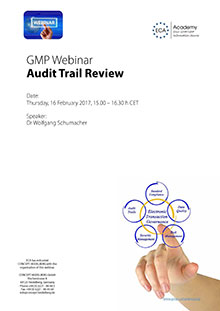 Wednesday, 14 February 2018, 15:00 - 16:30 h (CET)
Speakers
Dr Wolfgang Schumacher
Dr Wolfgang Schumacher worked for ASTA Medica and F. Hoffmann-La Roche and has more than 30 years of experience in the Pharmaceutical Industry. After a successful career in Cancer Research he focused on the management of national and FDA inspections, auditing of contract manufacturers and the accountability as QP. At Roche he established the IT quality assurance department and was recently accountable in Technical Operations as Vice Director for the GMP/CSV compliance of all global computer systems and the setup of the Data Integrity program, for Genentech as well.
Background
The topic "data integrity" is at present one of the major focal points in national and international Health Authority inspections. The pharmaceutical industry has already started to implement measures in Quality Control and the Quality Unit to ensure the integrity of data for the paper based documentation and the computerized systems. Recently, the Health Regulatory Bodies have started to check more frequently systems in the manufacturing, the quality control area and in the clinical sector . In these inspections emphasis is made particularly on data and parameters that could influence the patient safety. The topic "audit trail review" continues to lack a comprehensive definition in the guidelines; therefore many companies are investing more capacity in the routine control of audit trails than requested by law.
Target Group
The audience of this Webinar should be collaborators from QC, QA, production, clinical research/monitoring and IT, which are dealing with data integrity and the review of Audit Trails, are engaged as system administrators or manage/monitor computer systems in the GMP and GCP area.
Programme
The Webinar aims to focus on the critical elements of data integrity and Audit Trail Review:
Regulatory Overview – Update 2018
Manufacturing and QC data – which are critical data?
Data Integrity in the GCP area
4-eyes-principle vs. second person review – What makes sense?
Classification of systems – Which systems are relevant?
Who should review audit trails? – QA?
How is it documented?
What process and documentation is appropriate in case of deviations?
Technical Requirements
For our webinars, we use Cisco WebEx, one of the leading suppliers of online meetings. At
http://www.webex.com/test-meeting.htm
you can check if your system meets the necessary requirements for the participation at a WebEx meeting and at the same time install the necessary plug-in. Please just enter your name and email address for the test. If the installation is not possible because of your rights for the computer system, please contact your IT department. WebEx is a standard nowadays and the necessary installation is fast and easy.