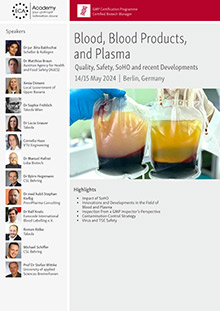 17-18 April 2018
Speakers
From Authorities:
Dr Dragoslav Domanovic, European Center for Disease Control
Dr Micha Nübling, World Health Organisation/Paul-Ehrlich Institut, Germany
Eva Lindberg, Swedish Medical Products Agency
Dr Karmin Saadat, AGES, Austria
Dr Frank Sielaff, Local GMP Inspectorate Darmstadt, Germany
From Science and Industry:
Svenja Barckhausen, Biotest
Dr Norbert Becker, KABS
Dr Stephan Kießig, VCC Medical
Dr Wolfgang Schumacher, SPC
Michael Szkutta, Octapharma
Dr Stephan Walsemann, KEDPLASMA
Aharon Weinstein, OrSense
Learning Objectives
During this conference, speakers from authorities, industry, sciences and donation services provide you with information about the current developments and revisions of the regulatory requirements, e.g. for epidemiology, PMF and product quality . Furthermore, the developments in microbial safety – requirements and methods – will be introduced, e.g. residual risks of transmission of viral diseases. You will benefit from experts presenting their practical experiences and knowledge in the field of quality and safety of blood, blood products and plasma.
Other information provided during this course includes Donor Vigilance, quality requirements of plasma fractionators and preparative plasmapheresis issues.
Background
During the next years, blood donation services, plasma establishments and the plasma industry expect an increasing need of plasma for fractionation. Due to patient blood management and the decreasing recovered plasma this problem can be solved only by extension of plasmapheresis and increased procurement of source plasma in Europe and worldwide. Especially new indications of blood products – e.g. the use of IVIG in immunologic disorders – will cause a growth of plasma derived medicinal products. Against this background, the number of donations must be increased to ensure the patient centred care as well as the supply of the industry. The amount of imported plasma for fractionation between the European countries as well as from USA will also increase. The necessary base for a comprehensive and sufficient maintenance in the EU countries is a consistent and standardised level of quality and safety of blood and plasma donations.
Based on the regulations of the European Union, e.g.
Directive 2002/98/EC "Setting standards of quality and safety for the collection, testing, processing, storage and distribution of human blood and blood components and amending Directive 2001/83/EC",
the "Plasma Master File",
the European Pharmacopoeia or
the EDQM "Guide to the preparation, use and quality assurance of blood components"
integrative procedures for all countries are essential. Donor screening, microbial testing, donation practises and later on storage, distribution and look back systems should be on the same level in all member states.
Additionally, new guidelines and guideline drafts related to microbiological safety issues – like those related to HEV transmission or to classic GMP issues like process validation – have an impact on the field of blood and plasma products.
Target Group
This conference is designed for persons from
Donation services/Blood services
QA Staff
National and international Authorities
Plasma Fractionation
Control Laboratories
who are involved in regulatory affairs, quality assurance, quality control and manufacturing of blood , blood products or plasma
Programme
Mosquitoes as nuisance and vector species in Europe
Spread of exotic species like Aedes albopictus and in the view of climate change
Chikungunya and dengue fever are occurring on the European continent
Disease risk and control options
Current infectious threats to the blood safety in EU
Characteristics of donor derived infections
Epidemiology of transfusion-transmitted infection
Reported Infections among blood donors in the last years in the EU
Reported transfusion transmitted infections in the last years in the EU
Evaluation of Epidemiological Data
Evaluation
Analysis
Benchmarking
Comparing epidemiological date
Setting of acceptance limits
Plasma Quality vs. Volume
Extracorporeal volumes during plasmapheresis procedures
Compartments of interest during plasmapheresis
Metabolism of proteins, especially IgG
Impact of donation volumes and donation frequencies on the plasma quality and the donor safety
Hyperimmunization in Europe?
Hyperimmune products at the EU market
Hyperimmunization of plasma donors vs. selection of donors
Impact of the analytical assays
A list of wishes
WHO Guideline Residual Risk Calculation
Virus safety of blood components and of plasma products
Differential contribution of screening assay categories
Virus epidemiology of first time and repeat donors
Adjustment factors
Donor Safety – View from Plasma Source
Donation volumes
Donation frequencies
Lessons learned from studies for intensified plasmapheresis
Non-invasive Methods for Evaluation of Donor Acceptance
Principles of non-invasive measurements
Pre- and post-analytical errors with different methods
Experience with regulation
Pitfalls of the Hemoglobin measurement
EMA Plasma Master File certification procedure
Plasma master File (PMF) procedure
PMF data requirements
Data requirements for epidemiological data, monitoring change, alert limits
Quality Expectations – Inspectors View
Quality requirements
Industrial standards and their relevance
Inspections and inspection procedure
Quality Aspects on Contract Manufacturing
Applicable regulations
Expectations and requirements from an authority point of view
Realization phase and role as "consultant"
Practical hints
Data Integrity – Impacting Blood Products?!
QMS/PQS sections to be adjusted for Data Integrity
Critical steps in the collection and manufacturing processes
New "Critical Data" definition in the EU GPG (valid Feb. 2018)
DI assessment of computer systems
Interfaces in Plasma product manufacturing – Experience of an Inspector
Involved actors from plasma donation to distribution of finished product
GMP requirements for the involved parties
Deficiencies recently identified in GMP inspections
GDP relating to Transport and Storage of Plasma for Fractionation
GDP basics and the impact for plasma
Peculiarities of transportation
Peculiarities of storage