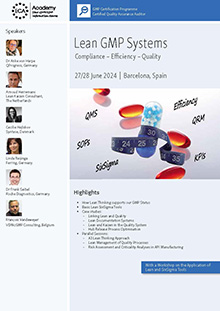 17-18 April 2018
Speakers
Arnoud Herremans, Lean Kaizen Consultant
Dr Afshin Hosseiny, Tabriz Consulting
Dr Andreas König, Quality König
Linda Reijinga, Ferring
Dr Bernd Renger, ECA
Learning Objectives
Learn how to design lean, efficient and compliant Quality and GMP-Systems that will support you in turning your quality goals into reality.
Background
Those of us in the competitive and highly regulated pharmaceutical industry understand the need to balance operational efficiency with regulatory compliance. We must find ways to reduce complexities, eliminate redundancies and streamline operations while staying compliant with an array of regulations, guidance documents and regulations. Making changes to our quality processes requires overcoming challenges arising from these often competing interests.
However, to face regulatory requirements and expectations, pharmaceutical quality systems have been becoming more and more complex over the past years. In many companies, this has led to a certain inflexibility and inefficiency. But quality related processes, procedures and their related documents should control and support, not constrain the true core competence of pharmaceutical companies: the manufacture of cost effective medicines and APIs at highest quality and in compliance with the regulations.
Quality Managers need to know how to fulfil the regulatory requirements efficiently and how to implement the necessary processes in a lean and cost effective manner that supports efficacy and safety.
Target Group
Managers and Executives from pharmaceutical Quality Management and Assurance, Business Executives and Production Managers and those involved in continuous improvement projects. But also Quality and Business executives from smaller organisations with highly constrained resources.
Programme
How to gain Efficiency in the Quality Unit without compromising Quality
Systems to reduce deviations
How do you measure quality?
How to develop a control strategy
How to facilitate quality based decisions using risk management techniques
Basic Lean SixSigma Tools
Fundamental problem-solving tools used to support Lean Six Sigma and other process improvement efforts
The modern QA Organisation
Developing a QMS to support business objectives while remaining compliant
Developing QA organisation to support seamless operations: How can QA manage process validation, change management, batch disposition, inspection readiness without reducing efficiency and increasing costs
Parallel sessions (2 out of 3):
1. The Hare and the Hedgehog - new Regulations and how to implement them in a lean and efficient Way
How can companies cope with the requirement to have something like a "regulatory and GMP intelligence"
Is there a need to immediately implement any new regulation?
How do we deal with guidelines that allow
alternative approaches?
Efficient Change Management
2. Lean and SixSigma Tools and how to apply them
Learn and discuss how to implement and use the most important Lean SixSigma tools
.
3. Efficient Data Pooling: KPIs, PQR, APR, Management Review
How to define meaningful KPI?
What are useful KPI?
What risks are involved using KPI
How to drive the development of an underperforming Quality System
You will be able to attend 2 of these sessions. Please choose the ones you like to attend when you register for the course.
Case Studies:
Linking Lean and Quality
Discussion of various case studies in two interactive sessions, for example:
Use historic data
Get out of a mess
Make use of a network
How to reduce the Number of SOPs while remaining in Compliance
Rationalise the existing SOPs
Reduce the total number
Introduce an efficient SOP review process
Remain compliant with the cGMP requirements
How to use Lean SixSigma Tools in Practice
Example: Optimisation of the Ferring EU hub release processes
Process analysis
Improvement actions
Evaluating and Monitoring Effectiveness