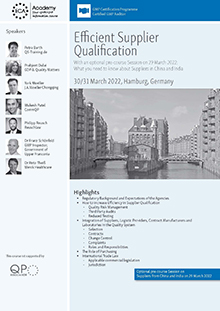 12-13 April 2018
Speakers
Petra Barth, form. AbbVie
Philipp Reusch, Reusch Attorneys
Dr Franz Schönfeld, GMP Inspector, Government of Upper Franconia
Dr Reto Theiß, Merck KGaA
Learning Objectives
During this course, you will learn all relevant aspects to implement and/ or improve a comprehensive and integrated Supplier Qualification System which fulfils regulatory GMP requirements. Furthermore, you will get to know possibilities and tools to increase efficiency and decrease costs at your company.
Background
Qualification and audits of suppliers, contract manufacturers and laboratories and other service providers are an important part of each Quality System. But what is required and which steps are really necessary? And is it possible to even decrease audit activities?
Starting materials should only be purchased from approved suppliers. EU Directive 2004/27/EC states that the manufacturer shall only use active substances, which have been manufactured in accordance with the detailed guidelines on GMP for starting materials. But also in contract manufacture and analysis, the contract giver is responsible for assessing the legality, suitability and the competence of the contract acceptor to follow GMP (EU Guide to GMP [7.5]).
The requirements and efforts to qualify suppliers should therefore not be underestimated. However, it seems that a downright 'audit tourism' has grown and suppliers and service providers are audited on site frequently and sometimes too often. In the globalising world more and more supplies are coming from countries like India and China. And qualifying these suppliers brings new challenges. This adds up to significant expenses for both the audited and the auditing company.
But supplier qualification is not limited to auditing. The whole process of supplier qualification and co-operation should be integrated in the existing Quality System of a company.
Target Group
This course and its pre-course session are designed for all personnel involved in supplier qualification activities at their company and decision makers who want to improve the existing process. It is addressed to persons from Quality Assurance and Control, Procurement, Business Development, Manufacturing, Project Management and R&D.
Programme
The Objective of Supplier Qualification
Regulatory background
Duties and responsibilities of the QP
Expectations of the authorities
Importing Active Pharmaceutical Ingredients into the European Union
International Trade Relations – what you need to know
International trade law
Applicable commercial legislation
Jurisdiction
Incoterms
Responsibilities
GMP pre-requisites for Procurement and Outsourcing Activities
GMP training for procurement staff
Dealing with brokers
Contracts
Change Control
Complaints
Roles and responsibilities
Outsourcing to Contract Manufacturers and Laboratories - what needs to be considered and who is responsible?
What activities can you out-source?
Differences when outsourcing within the EU compared to outside of the EU
Initiation and Contents of the Technical Agreements
Validation activities: tasks and responsibilities
GMP/GDP interface
Legal and ethical responsibilities
What can happen when things go wrong?
Case Studies:
A modular System for qualifying and maintaining Suppliers
Integrating supplier qualification in the pharmaceutical quality system
Interfaces with other departments
Examples
Reduced Testing of supplied APIs and Excipients
What guidance is available on reduced QC testing?
EU and FDA expectations
Information required before you start reducing
Can APIs and excipients be covered within the same approach?
Practical execution
Workshops on Risk Management in the Supply Chain
:
When things go wrong: Quality Risk Management to avoid delivery bottlenecks and drug shortage
A risk based Approach to Supplier Qualification
An interactive session to establish where to best concentrate your resources to maximise the assurance of a reliable supply chain:
Frequency of Supplier Audits based on Risk Assessment
Defining risk in the audit program
Compliance risk assessment