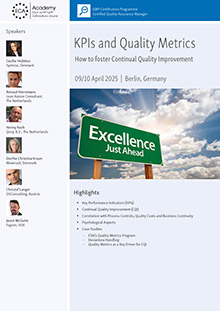 21-22 March 2018
Speakers
Arnoud Herremans, Lean Kaizen Consultant,The Netherlands
Henny Koch, Qimp Management Systems, The Netherlands
Dorthe Christina Kroun, Bavarian Nordic A/S, Denmark
Dr Daniel Marquardt, Boehringer Ingelheim, Germany
Dr Ann McGee, PharmaLex Ireland
Learning Objectives
This 2-day Master Class brings together well-experienced experts to discuss the latest expectations and requirements for Quality Metrics and KPIs and how they are linked to Continual Quality Improvement (CQI) and Business Continuity. This will support you turning your company's quality excellence goals into reality.
Background
To remain 'regulatory compliant' and to ensure the continuity of product supply in a cost-effective way, systems and processes must be evaluated and the respective processes simplified and controlled. Important tools in this context are accurate Quality Metrics, the right Key Performance Indicators (KPIs) and Continual Quality Improvement.
Quality Metrics in itself are not new, though. They have already been used in pharmaceutical industry for years – even though mainly internally to measure operational performance. But quality can be measured on different levels and for many processes. Done in the right way, Quality Metrics can enable companies to reach a high quality performance. They will benefit from a continuous improvement in both operational performance and GMP compliance. And both are important for the continuity of business and product supply.
A good quality metrics system supports both industry's profitability and GMP compliance. But a good system precludes overproduction of metrics; you only measure what adds value to quality in the most efficient way. This way the metric system is fit for purpose, enables you to maintain a high quality standard and allows you to lower your costs for quality. This can drive the price down and renders continuity to the business at the same time. To make this happen, industry must come together in courses like this to learn and discuss how to build a better quality system using smart quality metrics.
Target Group
Managers and Executives from pharmaceutical Quality Assurance and Quality Management but also Business Executives and Production Managers and those involved managing the continuity of product supply.
Programme
Quality Metrics and beyond
FDA's Quality Metrics Initiative: what's the status quo
Expectations in the EU
Quality Culture as the basis for quality improvements
How to involve the management in Quality Metrics
Set up of a practical review system
Follow up actions on management reviews
Integration of Quality Metrics Systems and KPIs in Continuous Improvement and Business Continuity
Understanding critical processes & where quality risks lie/ process mapping
Defining the right KPIs
Meaningful metrics (and the pitfalls)
The role of Quality Impact Assessment & effectiveness checks
The link to Opportunities for Improvement (OFIs), Continuous Quality Improvements (CQIs) and Business Continuity
Techniques to evaluate Quality Performance
Process Analysis
Root Cause Analysis
Cause-and-Effect Diagrams
Risk Assessment
Quality Cockpit
KPIs
Tracking & Trending
Assignment of Metrics and Correlation with Process Controls
The importance of proper use and relevance of lagging and leading KPIs in correlation with process controls.
The set up and implementation of a risk based data evaluation methods for continual improvement and the Management Review
Case Study: Quality Metrics as a Key Driver for CQI
Why did we implement Metrics?
How did we do it?
What was the outcome?
Lessons learned
How to apply Quality Metrics as a Key Driver for CQI
Parallel sessions (2 out of 3)
1. Managing Data: The Bridge from Quality Metrics to CQI
Defining the right KPIs and Meaningful metrics (work on examples)
What to learn from the data
2. Quality Metrics Principles to foster Business Continuity
Expectations of FDA and other authorities
What needs to be disclosed - what needs to be submitted?
The link to ICH Q12: Quality Metrics as part of Product Lifecycle Management
3. Analysis Tools for assessing and optimising Process Flows
How to choose and use the correct tools
You will be able to attend 2 of these sessions. Please choose the ones you like to attend when you register for the course.
Psychological Aspects of Continuous Improvement
What do the numbers tell us?
Business culture
Empowerment of people
Case Study: Boehringer Ingelheim's Quality Culture Initiative
Cultural enablement as a foundation for CQI und Business Continuity
Quality Culture at BI: From initiative introduction to operationalisation
Dimensions of cultural excellence framework
Is Quality Culture measurable?
Wrap-up: What the Future will bring
True understanding of the quality risks specific to our businesses
A shift to pro-active QRM from reactive risk assessment
Integration of QRM and change management
Moving away from the functional silo mentality
Process and QMS improvement in the interest of patient care
Meaningful performance evaluation criteria and metrics