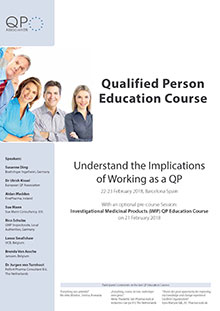 21 February 2018
Speakers
Dr Susanne Ding, Boehringer Ingelheim, Germany
Sue Mann, Sue Mann Consultancy, U.K.
Brenda Van Assche, Janssen, Belgium
Learning Objectives
This pre-course session provides a detailed overview of the specific characteristics in IMP manufacturing a QP must know to certify IMP batches for the release for clinical trials.
Background
The manufacture of investigational medicinal products (IMPs), including labelling, packaging, testing and certification, is carried out in accordance with the applicable GMP regulations. However, this is not a routine process, since, among other things, manufacturing and packaging procedures might be different for each and every clinical trial. The Qualified Person (QP) must therefore take into account these particularities and the GMP/GCP interface.
Target Group
New colleagues becoming IMP QPs, QPs looking for continuous training and personnel of CROs and "non-commercial" IMP organisations.
Programme
General introduction
Different clinical phases I to IV, focus on patient safety
Undefined processes (manufacture, fit for purpose control strategy, etc.)
Why use risk assessments & how to apply – vital core
of a IMP quality system
Diversity: IMP manufacturers, start-ups, academia…
Specific legal requirements for IMPs
Clinical Trial Regulation EU No. 536/2014 and the "old" Annex 13 and Directives 2001/20/EC and 2003/94/C
The "new" ATMP regulation
GMP meets clinical trials – Differences between IMPs and commercial Products
Packaging & labeling
Randomization
Blinding / placebos
Comparators
NIMPs / AMPs
Where to apply validation activities
The Product Specification File (PSF)
3rd country manufacture of IMPs: import and the QP Declaration
Registration
IMPD, CTA, IND etc.
Regulatory compliance and the two step release procedure
GMP meets GCP
Interaction with clinical sites
Distribution
IRT