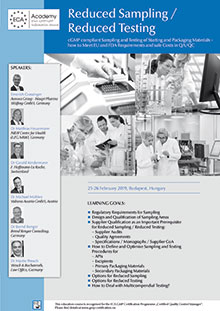 19-23 February 2018
Speakers
Emerich Grassinger, Aenova Group - Haupt Pharma Wülfing GmbH, Germany
Dr Matthias Heuermann, NRW Centre for Health (LZG.NRW), Germany
Dr Gerald Kindermann, F. Hoffmann-La Roche, Switzerland
Dr Michael Möhlen, Valneva Austria GmbH, Austria
Dr Bernd Renger, Bernd Renger Consulting, Germany
Dr Martin Wesch, Wesch & Buchenroth, Law Office, Germany
Jörg Kastenschmidt, Merck, Germany
Philip Lienbacher, Shire, Austria
Roland Miksche, Austria
Target Group
Reduced Sampling / Reduced Testing
This GMP Education Course is directed at all those employees from quality control units in the pharmaceutical industry (including heads of quality control and laboratory managers) who are competent or responsible for sampling, testing and release of starting materials (APIs and excipients) and packaging materials (primary and secondary). This course is also of interest to personnel from quality assurance and to those employees from API, excipient or packaging material suppliers who want to inform themselves about the requirements of the pharmaceutical industry on the testing of these materials.
Analytical Instrument Qualification
This GMP Education Course will be of practical value to scientists and engineers in analytical laboratories and contract laboratories in an FDA-/GMP-regulated environment who are responsible for the calibration and qualification of their laboratory equipment and for the validation of the computerised systems used in their laboratories.
Programme
Reduced Sampling / Reduced Testing
Regulatory Requirements for Sampling
Design and Qualification of Sampling Areas
Supplier Qualification as an Important Prerequisite
for Reduced Sampling / Reduced Testing: Supplier Audits, Quality Agreements, Specifications / Monographs / Supplier CoA
How to Define and Optimise Sampling and Testing
Procedures for APIs, Excipients, Primary Packaging Materials, Secondary Packaging Materials
Options for Reduced Sampling
Options for Reduced Testing
How to Deal with Multicompendial Testing?
Analytical Instrument Qualification
Regulatory Aspects of Analytical Instrument Qualification
USP General Chapter <1058> - Analytical Instrument Qualification
Risk Assessment in Analytical Laboratories
Calibration Management
Balances and Weighing Processes
Practical Examples of Analytical Instrument Qualification
and Calibration: Spectroscopic Instruments and Detectors (UV/VIS, IR, NIR, NMR, etc.), pH Measuring Instruments, HPLC / GC, RAMAN / NIR / FT-IR, Thermometers and Hygrometers
Computer Validation in Analytical Laboratories
Validation of Excel® Spreadsheets
Data Integrity Challenges in Calibration and Qualification