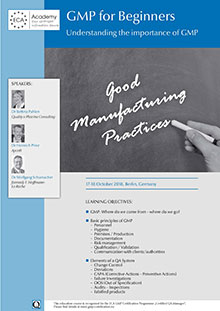 21-22 March 2018
Speakers
Dr Bettina Pahlen, Quality x Pharma Consulting
Dr Heinrich Prinz, Apceth
Dr Wolfgang Schumacher, formerly F. Hoffmann-La Roche
Learning Objectives
The course is designed for people who have no or only limited knowledge of GMP.
You get to know the most important pharmaceutical regulations and their importance,
you get a basic overview of GMP requirements in pharmaceutical production and
you become familiar with technical terms from the field of GMP and their meaning
Background
In the manufacture and quality control of medicinal products, compliance with the GMP rules is the decisive aspect for manufacturing high-quality products. For this reason, every staff member in the pharmaceutical industry has to be familiar with the basic GMP requirements. The relevant European GMP regulations define the following prerequisites:
In practice, many members of staff are often unaware of the contents and meaning of the different GMP requirements from Europe and the US and their consequences for product quality. During this course, speakers with long-standing experience in the training of employees introduce and explain the most important elements of a pharmaceutical GMP system in an easy-to-understand way.
Target Group
The course is directed to staff from the pharmaceutical industry having no or little experience with the current GMP requirements. This includes both employees who, after their vocational training, enter the pharmaceutical industry and experienced colleagues who work for the first time in a GMP-regulated environment. Participation is also recommended for personnel from suppliers who have to understand the quality requirements of their customers.
Programme
GMP: where do we come from - where do we go to?
Development of GMPs
GMP: Goal and general ideas
Types of regulatory documents and their meaning
GMP regulation for APIs, medicinal products and excipients - a comparison
Authorities and industry groups: ICH, PIC/S, EMA, FDA, WHO, APIC, ISPE, IPEC
GMP in the US
Comparison of US and EU regulations
Differences between European and FDA view on GMP / GMP vs cGMP
Typical expectations of FDA and European inspectors
Quality Management System
Quality Management System cited in the regulations
General aspects of Quality Assurance
How to implement and structure a system
Responsibilities
Personnel and Training
General aspects
Qualification
Key personnel
Job descriptions
Training (purpose, goals, contents, target groups)
Planning and documentation of training
Hygiene / Personal Hygiene
General aspects and rules
Hygiene programme
Personnel flow
Medical examination
Contamination
Monitoring
Documentation
Structure of documentation
Responsibilities for the documentation
SOP
Documentation in the manufacturing process
Documentation in the quality control
Batch record review
Annual report / Product quality report
Specifications
Specific Aspects of a QA System
Deviations
CAPA
Change Control
OOS
Failure Investigations
Self-inspections
Risk Management
Main topics of ICH Q 9 / Part 3 EU GMP Guideline
Risk management tools
Use of risk analysis during qualification
How to handle FMEA?
Premises / Production
Requirements for room and equipment
Classification of rooms
Sterile production/isolator
Maintenance of hygiene
How to behave during production
Qualification/Calibration/Maintenance
Definitions: Qualification, validation, calibration, maintenance, risk analysis
Organizing qualification and validation: the validation master plan (VMP)
Steps in qualification studies: DQ, IQ, OQ, PQ
Qualification parameters of typical types of
equipment: Clean rooms, water systems, production equipment, analytical equipment
Performing risk analysis: tools and practical tips
Calibration: critical types of equipment
How to build up a calibration system
Maintenance: Requirements and system
Validation of computerised systems
Process Validation and Validation of Analytical Methods
General aspects and requirements
Process validation
Documentation of process validation
Validation of analytical methods
Documentation of analytical methods validation
Cleaning Validation
Regulators requirements
The cleaning procedure
Building up a cleaning validation
Sampling
Analytical tests
Audits and Inspections
Types of audits
Requirements
Dos and don'ts for the auditee - How to survive audits?
Performing audits and self-inspections
Good audit practices
Packaging/Storage/Transportation
Packaging/Storage/Transportation in the regulations
Managing of packaging process
What is necessary to regulate in a pharmaceutical company
WHO good storage practice – elements and requirements
Transportation as part of storage
How to maintain the quality during transportation
Measurements against falsified Products
Regulatory requirements
Responsibilities of QP and the pharmaceutical industry
What measurements can be taken
Strategies against falsified products