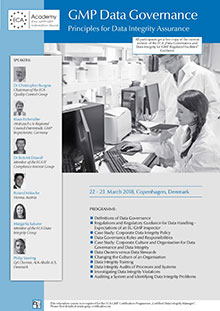 22-23 March 2018
Speakers
Dr Christopher Burgess, Chairman of the ECA Quality Control Group
Klaus Eichmüller, Wolnzach c/o Regional Council Darmstadt, GMP Inspectorate, Germany
Dr Bob McDowall, Member of the ECA IT Compliance Interest Group
Roland Miksche, Shire, Vienna, Austria
Margarita Sabater, Member of the ECA Quality Control Group
Philip Vaering, Team Leader in Process and Technical Support, ALK-Abelló A/S, Denmark
Learning Objectives
The objectives of this ECA educational course are to provide:
An understanding of the scope of data governance within a pharmaceutical quality system
The roles and responsibilities of senior management for data governance
Roles and responsibilities of data owners and data stewards in ensuring data integrity of specific systems and processes
Ensuring the correct culture for data integrity
Background
Data integrity is the hottest regulatory topic today in GMP as a result of inspectors finding poor data management practices and data falsification. As a result, guidance documents have been issued by MHRA and WHO with other guidance due from EMA and PIC/S. In these documents, there is the phrase "Data Governance" used. The same definition of the term is used by MHRA and WHO:
The sum total of arrangements to ensure that data, irrespective of the format in which it is generated, is recorded, processed, retained and used to ensure a complete, consistent and accurate record throughout the data lifecycle.
As guidance, the "sum total of arrangements" is not very illuminating or informative. In fact, the definition of data governance from the draft WHO guidance starts with the phrase "Management leadership …" which is much more informative and focussed.
This course is designed to help GMP organisations understand the term and implications of data governance. Data governance and data integrity is not just about correct numbers, it is much more than that and involves management leadership, influencing others, change of culture, effective training and personal honesty.
Target Group
Managers and staff from Manufacturing, QC/QA and Analytical Development Laboratories of pharmaceutical companies
Contract Research Organisation and Contract Manufacturing Organisation manufacturing, laboratory and QA personnel
Auditors (internal and external) responsible for performing self-inspections or external audits and needing to understand and assess data integrity
Programme
Setting the Scene: Introduction to the Course and Scope of Data Governance
Data Integrity Model with focus on Data Governance
Definitions of Data Governance
Scope of Data Governance in ensuring Data Integrity: Who is involved?
Regulations and Regulatory Guidance for Data Handling - Expectations of an EU GMP Inspector
GMP Regulations – EU
ICH Q10
Data integrity guidance documents - EMA, WHO, and others
Case Study: Corporate Data Integrity Policy
Scope and content
Authorship and Approval
Data Governance Roles and Responsibilities
Who is involved – in the whole organisation
What do they have to do?
Workshop 1: Content of the Data Integrity Policy
Work on specific sections of the policy in groups
Case Study: Corporate Culture and Organisation for Data Governance and Data Integrity
Role of Senior Management
Interdependencies of function
How to implement the change process
Data Owners and Data Stewards
What do they have to do?
Roles and responsibilities
Identifying and training the individuals
Workshop 2: Defining Roles and Responsibilities for Data Owners, Stewards, Staff & IT
Laboratory
Production
Quality Assurance Systems
Changing the Culture of an Organisation
What is required?
Behaviours: no blame culture & whistleblower line
Defining expectations: expected and prohibited actions with consequences
Delivering change
Data Integrity Training
Learning from outside the pharmaceutical industry
Linking the data integrity policy and local procedures for processes and systems
Assessing and measuring understanding
Data Integrity Audits of Processes and Systems
Data Life cycle for manual and automated processes
What data integrity controls are required throughout the life cycle?
Security and confidentiality considerations
Investigating Data Integrity Violations
Global GAP Analysis and Data Integrity Control Strategies
Identifying data integrity GAPs in a global organisation
Ensuring focus on the most critical systems and issues (risk based approach)
Driving global data integrity projects
Data Integrity control strategies
Workshop 3: Auditing a System and Identifying Data Integrity Problems
Laboratory
Production
Quality Assurance Systems