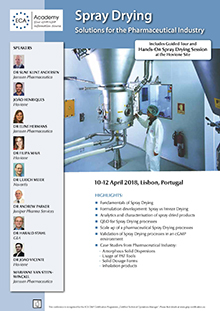 10-12 April 2018
Speakers
Dr Sune Klint Andersen, Janssen Pharmaceutica
Dr Eunice Costa, Hovione, Portugal
João Henriques, Hovione
Dr Eline Hermans, Janssen Pharmaceutica
Dr Ulrich Meier, Novartis
Dr Andrew Parker, Juniper Pharma Services
Dr Harald Stahl, GEA
Dr Joao Vicente, Hovione
Marianne Van Steenwinckel, Janssen Pharmaceutica
Learning Objectives
Take advantage of the opportunity to focus on spray drying technology and process and get a first hand demonstration of solutions for diverse requirements. Further, benefit from the post-conference session where you can get a hands-on experience in spray drying yourself. You will learn in small groups how the spray drying result is affected by different equipment, parameter changes, solvents etc.
Background
try, being an ideal process where the end-product must comply with precise quality standards regarding particle size distribution, residual moisture/solvent content, bulk density and morphology.
One advantage of spray drying is the remarkable versatility of the technology, evident when analysing the multiple applications and the wide range of products that can be obtained. From very fine particles for pulmonary delivery to big agglomerated powders for oral dosages, from amorphous to crystalline products and the potential for one-step formulations, spray drying offers multiple opportunities that no other single drying technology can claim.
Benefits of Spray Drying
High precision control over:
Particle size
Bulk density
Degree of crystallinity
OVIs and residual solvents
Typical application in pre-formulated products
Microencapsulations
Solid solutions
Improved bioavailability and stability
For products with unusual or difficult characteristics
Sticky or hygroscopic products
Slowly crystallizing products
Difficult to isolate products
Rapid drying for temperature sensitive materials
Target Group
This conference addresses specialists and executives working in the fields of pharmaceutical manufacture, research and development and quality control as well as technicians, planners and plant designers, especially those involved with the manufacture of powders and granules, as e.g. in the manufacture of solid dosage forms for oral or pulmonary administration.
Programme
Fundamentals of Spray Drying
Identification of Critical Process Parameters
Control of those Process Parameters
Influence of these Process Parameters on Product Quality
Example of setting up a Spray Drying Process
Analytics and characterisation of spray dried products
Short Overview of Solid dispersions
Analytical tools
Novel screening methods – single droplet spray drying
Screening protein formulations
Understanding cohesion/adhesion balances
Correlating structure with performance
Spray Drying vs Freeze Drying – How to choose the right technique?
Spray Drying of Pharmaceuticals: Formulation via spray drying, Scientific basics, Review of spray-dried pharmaceutical products
How to conclude: Spray Drying or Freeze Drying
Development of Scaleable Spray Drying Processes for Solid Drug Product Manufacture
The presentation starts from the target properties of pharmaceutical intermediates and products for oral solid dosage forms and for dry powder inhalation, viewing SD as a particle design tool. Examples of various product types, such as amorphous drug substances, solid dispersions, granulates and inhalable powder, are given. SD is then compared to other drying/ agglomeration processes more common in the pharma industry. A systematic approach for development of products/ processes by means of spray drying is illustrated. , A special focus is given to the scaleability of the SD processes.
Scale-up of a Spray Drying Process
The bench scale spray drying units can be found in most of the material characterisation and drug development teams, being also used as production units of high-value low-volume drugs. However, it is often underestimated the valuable information that lab experiments can give to help in a successful process scale-up. In this presentation a scale-up methodology will be presented where insight will be given on what and how lab scale data can be used, as well as, how scaling-up can be used to improve product properties.
Usage of lab scale data and lab-scale limitations
Product improvement during scale up
Scale-up methodology
Process development strategy
Trouble Shooting Session
In this interactive session, all the key elements of the preceding lectures are
brought together.
What to do if:
Particles are too fine/coarse
Yield is too low
Final product moisture content is too high
Different product characteristics after scale up
Amorphous Solid Dispersions – Manufacturing Technologies
Case Study: PAT Technology for Spray Drying
PAT to support a theoretical spray dry model in scale-up
FDA's request for PAT to ensure product quality
In line measurement of particle size and relative saturation
Integration of Quality-by-Design into Qualification and Validation of Spray Drying Processes
Development of spray drying process using Quality-by-Design: Design of Experiments (DoE), Critical Process Parameters, Critical Material Attributes
Risk assessments: Spray Drying Process, Spray Dryer Design
Qualification and Validation of a Spray Dryer
Process Validation: Scale-up, Control Strategy
Special tests during qualification and validation
Supporting the development of oral dosage forms with Spray Drying
Specific challenges of the formulation of Amorphous Solid Dispersions into tablets
Bridging spray drying and tablet development
Advantages and challenges of integrated ASD tablet development
Case study: Application of Spray Drying for Inhalation Products
Critical quality attributes: an overview for composite formulations via spray drying
Spray drying process: Thermodynamics aspects specific of Inhalation products
Spray drying process : Atomization aspects (controlling particle size and morphology)
Composite DPI formulations through spray drying
Site Visit at Hovione on Thursday, 12 April 2018
cGMP Spray Drying Equipment and Facility
Part of the programme on the third day of the conference is a guided tour at the Hovione site.
In line with the latest developments on spray drying technologies and with the increasing demand for highly defined particles properties in the pharmaceutical industry, Hovione has installed and commissioned a range of spray drying units able to operate under the most stringent cGMP conditions.
These laboratorial, pilot and industrial scale units allow Hovione to offer from a few grams to full scale commercial production. With FDA-inspected plants Hovione is capable to manufacture spray dried material under cGMP conditions.
The guided tour will include a visit of the spray dryer building where pilot, small and full commercial scale equipment can be seen. Moreover the production control room and the analytical labs will be part of the guided tour.
Hands-on Spray Drying Session, Thursday, 12 April 2018
On the third conference day you will have the opportunity to take advantage of an exclusive hands-on training. For that purpose several spray dryers will be available at Hovione. Experienced Trainers will lead you in small groups, providing an intensive experience and directly applicable know-how.
You will see how scale-up is done through mathematical modelling and how to take advantage of scale-up to significantly improve powder properties. You will have the chance to spray dry a material both at lab and commercial scale. You will learn how to develop a process under QbD, how to optimise production parameters and how to proceed a scale-up from laboratory to industrial scale. Furthermore, you will learn how to analyse and evaluate your product.
Experiments:
Definition of scale-up conditions with the aid of macroscopic heat and mass balance and Computational Fluid Dynamics
Laboratory scale spray drying – how to set up a stable lab scale process. Tips and tricks
Upscale to pilot/commercial-scale spray dryer. Details on system configuration and basic controls
Comparison of powders in terms of flowability, particle size, morphology and other relevant powder/particle attributes
In certain cases a participation in the workshop may not be possible due to competitive reasons.
A shuttle bus will bring you back to the hotel with a prior stop at the airport.
Airport arrival is scheduled for approximately 15.30 h.
The course is held in small groups, so number of participants is strongly limited.
Early booking is recommended.