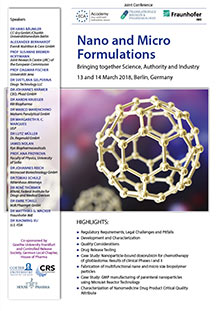 13-14 March 2018
Speakers
Dr Hans Bäumler, CC-Ery GmbH /Charité-Universitätsmedizin Berlin
Alexander Bernhardt, Evonik Nutrition & Care GmbH
Prof Susanne Bremer- Hoffmann, Joint Research Centre (JRC) of the European Commission
Prof Dagmar Fischer, Universität Jena
Dr Svetlana Gelperina, Drugs Technology LLC
Dr Johannes Krämer, CEO, Phast GmbH
Dr Aaron Krueger, KBI Biopharma
Dr Marco Marenchino, Malvern Panalytical GmbH
Dr Margareth R. C. Marques, USP
Dr Lutz Müller, Dr. Regenold GmbH
James Nolan, Kyn Biopharmaceuticals
Prof. Ana Proykova, Faculty of Physics, University of Sofia
Dr Johannes Reich, Microcoat Biotechnology GmbH
Dr Tobias Schulz, Rittershaus Attorneys
Dr René Thürmer, BfArM, Federal Institute for Drugs and Medical Devices
Dr Emre Türeli, MJR Pharmjet GmbH
Dr Matthias G. Wacker, Fraunhofer IME
Dr Xiaoming Xu, U.S. FDA
Learning Objectives
This conference covers the legal and scientific aspects in the development of nanopharmaceuticals, medical devices and other products containing nanomaterials:
Physicochemical characterization and quality aspects of nanopharmaceuticals
Requirements from authority's perspective
Experiences from submissions and consequences for pharmaceutical development and lifecycle management
Scientific data in regulatory submissions
Take advantage to discuss with colleagues from pharmaceutical industry, key opinion leaders from academia, manufacturers and authorities.
Background
In recent years, nanotechnology has become increasingly important for global industries. Nanopharmaceuticals and medical devices take advantage of advanced manufacturing technology and functionalized biomaterials. However, in some cases, nanomaterials may exert unexpected risks for human health and the environment.
In the light of the ongoing controversy, the use of nanomaterials and novel technologies in the pharmaceutical formulation pipeline will be presented. Furthermore, case examples for market applications will be presented and the effect of a growing regulatory framework on market perspectives will be highlighted.
The comprehensive program of the workshop will address these pressing concerns over how to develop novel nanoproducts, how to characterize them for submission or registration and how to deal with safety concerns
Target Group
This seminar addresses pharmaceutical professionals in R&D as well as in quality control, production of pharmaceutical industry and excipient manufacturers.
Programme
Module 1: Background and Legal Challenges
Introduction to Nanomaterials
The complex nano landscape
Challenges and pitfalls in the nano development
Nanosafety: Real risk or inadequate experiments?
Multi-Parameter Characterization of Liposomes by Nanoparticle Tracking Analysis, Dynamic Light Scattering, and Electrophoretic Light Scattering
Optimal conditions for extruding liposomes stability under different conditions
Limit of detection for fluorescently labeled liposomes
Charactization by Nanoparticle Tracking Analysis (NTA) and Dynamic and Electrophoretic Light Scattering
Using the data for optimizations
Legal Challenges and Pitfalls
Introduction and general considerations
The European legal framework for nanomaterials in medicinal products
Nanomaterials according to the new EU-MDR 2017/745
Complementary Technologies for Characterization of Particles in the Nano/Colloidal Range
Particle characterization techniques can be applied across a wide variety of sample types
Multiple particle techniques can be used to adequately characterize therapeutic products or nanomedicines and particle populations
Advances in analytical technology for characterization and identification of particles provides a tremendous amount of new data
Careful interpretation of data and in-depth understanding of the method limitations is of utmost importance for complementary methods
Module 2: Development and Characterization
USP Perspectives for Drug Products Containing Nanomaterials
Nomenclature and definition of pharmaceutical dosage forms containing nanomaterials – Harmonization with the US FDA
In-vitro release tests (dissolution/drug release)
Physical-chemical characterization techniques
Characterization of Nanomedicine Drug Product Critical Quality Attribute
Correlation between biological performance and quality attribute
Identification and characterization of certain nanoparticle quality attributes
Impact to efficacy
Impact to safety of clinical stage product
Quality Considerations and Regulatory Perspectives for Drug Products Containing Nanomaterials: FDA Perspective
Nanomaterial definitions and considerations
Drug products containing nanomaterials
Physicochemical characterizations and performance testing for quality considerations
Challenges in the Drug Release Testing of next-generation Nanomedicines
PLGA nanoparticles, microparticles and liposomes
Physicochemical characterization and drug release testing
In vitro drug release testing using the dispersion releaser technology
In vitro-in vivo correlation
Analysis of Drug Release from Nanoparticulate Dosage Forms without Phase Separation
Nanoparticulate dosage forms based on PLGA vs. complex lipid vesicles
Assay for residual content
In situ analysis of drug release kinetics
Derivative spectroscopy
Module 3: Further Challenges for Nanopharmaceuticals and Medical Devices
Regulations in the Area of advanced Engineered Nanomaterials
Behaviour of advanced engineered nano & micro particles
Applications in phase changing and porous materials, polymers
Micro/nano scale modelling of new materials
Risk assessment of nano/micro materials usage
Sometimes an unexpected Pitfall - Bacterial Endotoxin Testing in Nanomaterials
Relevance of endotoxin testing in nanoparticle samples
Common endotoxin test methods
Interference of nanoparticles with common test methods
Interaction of nanoparticles with endotoxin
A European Perspective on Regulatory Issues for Drug Products Containing Nanomaterials
How the EU promotes the development of new nanomedicines by: Publishing guidance,
Scientific advice, Convergence of scientific requirements to support the quality, safety and efficacy of nanomedicines
Regulatory challenges deriving from the use of an innovative technology that crosses different platforms
Introduction into the European Nanomedicine Characterisation Laboratory (EUNCL Aims and Objectives of the EUNCL)
Introduction into the service and process
Collaboration with regulators
Smart Formulations for parenteral Administration with bio-degradable RESOMER® Polymers
Overview RESOMER product portfolio for parenteral formulations
FormEZE microencapsulation process
Nanoparticulate dosage forms based on PLGA polymers
Module 4: Case Studies: Quality and Manufacturing
Quality Requirements on IMPD and Module 3 for particular Systems
Requirements for specific clinical phase
Differences clinical studies versus marketing authorisation
Case Study: Nanoparticle-bound Doxorubicin for Chemotherapy of Glioblastoma: Results of clinical Phases I and II
Nanoparticles for brain delivery: proof of the concept
Preclinical studies
Technological issues
Clinical development
Fabrication of multifunctional Nano and Micro Size Biopolymer Particles
Case Study: GMP Manufacturing of parenteral Nanoparticles using MicroJet Reactor Technology
Requirements for GMP manufacturing of nanoparticles
Preparation of nanoparticles with precipitation using MicroJet Reactor Technology
Validation of nanoparticle manufacturing method using MicroJet Reactor Technology
Downstream processing of nanoparticles
In process controls for nanoparticle manufacturing