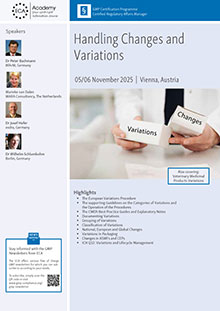 26-27 September 2017
Speakers
Dr Peter Bachmann, BfArM, Germany
Mariska de Kleijn, Janssen Biologics B.V., The Netherlands
Dr Josef Hofer, exdra GmbH, Germany
Dr Hiltrud Horn, Horn Pharmaceutical Consulting, Germany
Dr Wilhelm Schlumbohm, Berlin, Germany
Marieke van Dalen, Aspen Oss B.V., The Netherlands
Learning Objectives
This conference is intended to provide guidance on the provisions laid down in the new EU variations regulation and the supporting guideline. You will get to know how the new regulation works and you will learn about
How to efficiently submit and process variations
Which benefits the supporting guidelines provide and how to use them
What has to be considered during documentation of a variations procedure
How to handle changes in manufacturing procedures
How to handle changes in packaging material
How to manage changes in ASMFs and CEPs
Participants will have the opportunity to choose 1 out of 2 parallel workshops dealing with
Grouping of variations
Classification of variations
Background
Since 1 January 2010 the Commission Regulation (EC) No. 1234/2008 is binding and directly applicable in all EU member states. It defines the procedure for handling variations to the terms of marketing authorisations. Article 4 of this regulation calls for detailed guidelines explaining the different categories of variations types as well as procedural questions on the documents to be submitted in each case. These Guidelines have been consolidated in one document and published as Chapter 5 of Eudralex Volume 2A (procedures for marketing authorisation) in May 2013.
The variations regulation is intended to simplify the handling of the variations procedure and to provide more flexibility in the submission and processing of variations. However the provisions are of considerable complexity and it is important for API manufacturers and the pharmaceutical industry to be well informed about the latest status of the details of the provisions about handling changes and variations.
Target Group
The conference is designed for all persons involved in the compilation of pharmaceutical dossiers for marketing authorisations who want to become familiar with the EU variations regulation, in particular for personnel from Regulatory Affairs. Furthermore, the course will be of interest to personnel from Quality Units, Quality Control and Production of the pharmaceutical and the API industry.
Programme
The new European Variations Procedure – an Overview
Introduction and legal background
General provisions of the Commission Regulation (EC) No 1234/2008
Supporting Guidelines
Classification of variations
Procedural handling of variations
Grouping and worksharing of Variations
Coordination group and arbitration
Conclusion and Expectations
Submission and Processing of Variations – the CMDh Best Practice Guides and Explanatory Notes
Best practice guides for the processing of different types of variations
Best practice guides for the processing of grouped applications
Best practice guides on worksharing and recommendations on unforeseen variations
The explanatory notes on how to complete the Variation Application Form
How to document a Variations Procedure
Documentation requirements for different types of variations
Timelines
Why a Change Control System?
Major parts of a Change Control SOP
Efficient company internal communication
Hints and tips for lowering the workload
Grouping of Variations – Case Studies
Cases for grouping variations according to Article 7 in connection with Annex III
of the Commission Regulation
Possibilities to combine several changes into one single application
Examples
How to manage changes in a multi customer situation using ASMFs or CEPs
Specific issues for API manufacturers
Need for changes
How to inform your customers and get feed-back
Differences between ASMF and CEP
When can you implement the change
Conclusions
Handling National, European and Global Changes
Changes in national applications
Variations Project Management
Starting and processing the notification procedure within Europe
Changes and variations in the US
Handling global changes and variations
Impact of Q8, Q9, Q10 and PAT
How to handle Changes in Manufacturing Processes
Background
How to implement Changes
Changes in the Manufacture of APIs
Example: Minor change in the API synthesis
Example: Site change
Changes in the Manufacture of Drug Products
Example: Minor process change
Practical Example: Manufacturing Sites outside the EEA
Proof of GMP compliance of the new site
QP declarations
How to handle Packaging Changes
Background
Packaging information in Module 3
How to deal with these Changes
Key questions
Practical Examples
Change in supplier
Change in the foil composition
Change of packaging for sterile products
Variations and Lifecycle Management
Reasons for variations
Procedures and classifications
Type II Variations: time scales
Extension of an existing marketing authorisation
Categorisation of new applications versus variation applications