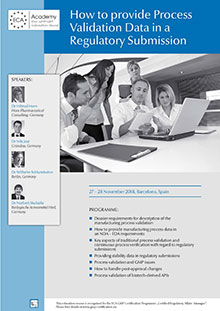 28-29 September 2017
Speakers
Dr Hiltrud Horn, Horn Pharmaceutical Consulting, Germany
Dr Nils Jost, Gründau, Germany
Dr Wilhelm Schlumbohm, Berlin, Germany
Dr Norbert Skuballa, Biologische Arzneimittel Heel, Germany
Learning Objectives
This education course focuses on how to compile and provide information and data from process validations for Drug Substances and Drug Products both of chemical and biotechnological origin. You will learn
How to prepare and process the data derived from validation runs of drug product manufacturing processes
What needs to be documented about drug substance manufacturing processes
How to manage and document post approval changes in manufacturing processes
What to consider for compiling stability data for the dossier
How to provide validation data of biotech manufacturing processes
Background
Process validation can be defined as documented evidence that the process, operated within established parameters, can perform effectively and reproducibly to produce a medicinal product meeting its predetermined specifications and quality attributes. In general there are two options to validate a manufacturing process: a traditional approach or an enhanced approach where continuous process verification is applied. Irrespective of which approach is used the manufacturing process should be validated before the product is placed on the market. Therefore complete data have to be provided in the dossier at the time of regulatory submission. These data should cover the validation for all manufactured strengths, batch sizes, pack sizes and proposed manufacturing sites.
Guidance on process validation information to be provided in regulatory submissions is given in 2 EMA Guidelines: "Guideline on process validation for finished products – information and data to be provided in regulatory submissions" and "Guideline on process validation for the manufacture of biotechnology-derived active substances and data to be provided in the regulatory submission". Provisions of both GMP compliant manufacture and dossier requirements are laid down in FDA's Guidance for Industry entitled "Process Validation: General Principles and Practices".
Target Group
This education course is designed for all persons involved in the compilation of dossiers for regulatory submissions who want to become familiar with the requirements for the documentation of process validation data. The course will be of interest in particular for personnel from Regulatory Affairs as well as for personnel from Quality Assurance, Production and Quality Control.
Programme
Process validation of manufacturing processes – Dossier requirements in the EU
Relevant guidance documents
Finished product process validation
Traditional and enhanced approaches
Process validation schemes
Standard vs. non-standard processes
Traditional Process Validation and Continuous Process Verification
What are the opportunities and challenges?
What are the key aspects for the CTD?
What should you consider for selecting the right validation strategy?
What should you know about design space?
What are typical validation questions to be addressed?
How to provide stability data in regulatory submissions
Stability data from drug substances and drug products in the CTD
Long term and accelerated conditions, in-use stability
Requirements for the different climatic zones
Stability summary and conclusion
Process parameters with potential impact on drug substance/drug product stability
Changes in the process: what has to be considered regarding stability?
Manufacture of active substances – Process validation and GMP issues
API manufacture – What needs to be documented in the dossier?
Process validation for APIs – Key aspects
GMP for APIs
Case Studies on typical Validation Projects
Standard and non-standard processes
Validation approach for drug substances and drug products
Validation strategy and planning from development to registration
Specific points to be considered for EU and US
Basic requirements and expectations of the FDA regarding process validation
Approach to and considerations for process validation
Process Design
Process qualification and process performance qualification (PPQ)
The PPQ protocol – execution and report
Handling Post-Approval Changes in manufacturing processes
Which GMP and regulatory aspects need to be considered (e.g. site /process changes)?
How to define the validation strategy?
What are the challenges?
How to be successful?
Process validation for the manufacture of biotech-derived APIs – process evaluation and verification
Process evaluation
Critical quality attributes (CQAs) of the active substance
Small scale models
Process verification studies and data
Number of batches to be presented
Design space option
Evaluation of the upstream process
Criticality assignment of process parameters
Potential impact of raw materials
Verification of upstream process
Single use equipment
Evaluation and verification of downstream process
Comparability of products manufactured in different sites