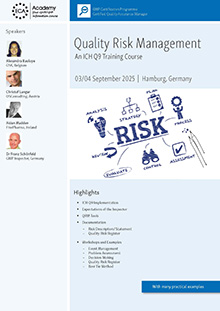 5-6 October 2017
Speakers
Richard M. Bonner, ECA
Dr Heinrich Prinz, Apceth GmbH & Co. KG
Dr Thomas Schneppe, Bayer HealthCare AG
Dr Franz Schönfeld, GMP Inspector, Germany
Dr Helene Zuurmond, Pfizer
Learning Objectives
This ICH Q9 training course deals with the practical implementation of the requirements. Individual examples will support you applying Quality Risk Management (QRM) principles in your company.
Background
After its finalisation, the Guideline ICH Q9 "Quality Risk Management" was implemented in the EU, the U.S. and in Japan.
In the course of implementing ICH Q9, the risk-based approach increasingly gained in importance. Before that, it was often the case that processes were defined, implemented and documented to the latest detail.
Now, based on risk assessments, more flexibility is possible, allowing implementing and controlling processes more efficiently. Decisions can be made based on evaluated risks. QRM permits scientifically substantiated decision making based on a previously assessed risk.
Unfortunately many companies limit their whole QRM system only to the implementation of the FMEA method. But it is much more than this and QRM can really support the pharmaceutical industry in improving their processes and performance.
Target Group
This course is designed for all persons in pharmaceutical, biopharmaceutical and API industry's production and quality units, who establish, manage and improve quality risk management systems.
Programme
ICH Q9 Quality Risk Management
Basic Requirements
Comparison to ISO standards
How to implement Quality Risk Management in a pharmaceutical Company
The risk-based approach and its impact on key GMP processes
ICH Q9 in the context of ICH Q8 and ICH Q10
The implementation of "quality risk management thinking and doing" on management and shop floor level (tools and experiences)
How to realise Quality Risk Management in a GMP Environment
An overview of the diverse techniques (FMEA, HACCP, FTA etc.)
Benefit of the tools
Examples from the production of medicinal products and APIs
How to apply Quality Risk Management in Validation
Understand why the use of Risk Management in
Process Validation is expected
What is the benefit of using a Risk Management approach versus the traditional 3 batch validation approach?
What does ICH Q9 mean with respect to Quality Risk Management in Validation
Benefits
Exercise
The Inspector's View
Expectations
Integration in the Pharmaceutical Quality System
Examples for good and not so good practice
Design of an Event Handling System based on a Quality System and Quality Risk Management
Approach
QRM in the Quality System
Events (e. g. deviations, complaints etc.)
Risk Management Application
Outputs
Workshop:
A problem has occurred – how to perform a sound Risk Assessment of the situation and come to an appropriate decision.
Presentation and Workshop on Risk Management in the Supply Chain:
An interactive workshop to establish where to best concentrate your resources to maximise the assurance of a reliable supply chain:
Frequency of Supplier Audits based on Risk
Assessment
Defining risk in the audit program
Compliance risk assessment
After the workshop you will be able to use or adapt the template to conduct a similar risk profile for your own facilities and third-party operations.
Workshop on Case Studies
The term "quality risk management" is used throughout the GMP guidelines. In this session you will get some practical advice and work with scenarios requiring a decision.